Lauryn Hill Concert Review: "I Was Always on My Way Back"
The controversial performer was on time for a 90-minute plus performance at Manhattan's Highline Ballroom.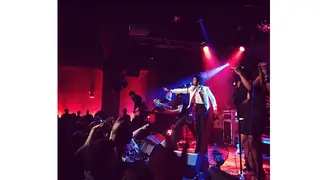 "No what matter people said, I didn't abandon you. I was always on my way back," said the legendary Lauryn Hill to a packed house for a one-night-only performance in New York City this past Saturday night at the Highline Ballroom. Despite her reputation for tardiness, the eight-time Grammy winner was promptly on stage at 9:30 p.m. for a 20-song set, taking the excited crowd on a journey of her timeless music.

In leading up to the concert, fans swapped stories of waiting over four hours for Lauryn. Therefore, when the DJ announced Lauryn Hill at 9:30pm sharp and an a capella version of "I Get Out" played, the crowd went delirious. Ms. Hill graced the stage, nodding her head, hands in prayer and mouthing, "Thank you." Lauryn looked healthy, beautiful and secure in her artistry. She opened with a shortened version of "Killing Me Softly" and swiftly went into renditions of "Everything Is Everything," "Superstar" (repeatedly singing, "Come on baby, light my fire"), Bob Marley's "Concrete Jungle" and "Forgive Them Father."  
Lauryn and her phenomenal band rearranged most of the songs with an up-tempo rhythm — including the ballads, for which she has been widely criticized. Nonetheless, the fans were satisfied. One audience member said: "If people want to hear the album versions, go home and press play!" And even against the bombastic band, Hill's voice delivered undeniable emotion and her signature soul. There was a pleading in her vocals as she talked in between sets about love and survival, "It's been a struggle. We are pushing through. People forget how young I was when I started… I just needed time."
Hill had several intimate interactions with the audience. She told Philadelphia native Nicole Ray, "I see you, I acknowledge you," pointing to her as Ray uncontrollably sobbed. Right before "Ex Factor," Texas native Jorge Lander showed Hill a massive tattoo on his forearm, which was a long quote from Lauryn. Ms. Hill stopped the show for several minutes and kneeled down as Lander revealed that in 2006 he was considering suicide and her music saved his life. For some, seeing Lauryn Hill was a religious experience. 
The best moment of the night was Lauryn bringing her nephew and some of her kids on stage. All of them spit rhymes (except for her eldest daughter Selah) and clearly inherited the lyrical flow of their mother — one of the boys burst into tears after forgetting the lyrics, but mommy Lauryn consoled him.  
Let's not forget, Lauryn is arguably one of the greatest MCs of all time — male or female. Hill effortlessly delivered lyrics from her old school days as a member of Fugees. L Boogie brought the diverse crowd to a frenzy when she spat, "I'll be Nina Simone and defecatin' on your microphone!" — one of her most famous lyrics from "Ready or Not."  
Hopefully, Hill's performance at the Highline Ballroom, which was slated as a celebration of 1998's The Miseducation of Lauryn Hill, is a positive sign of a new album, which is long overdue.
Below is the complete set list:
"I Get Out"/"Killing Me Softly" Intro
"Everything Is Everything"
"Superstar" 
"Concrete Jungle" by Bob Marley & the Wailers
"Forgive Them Father" 
"Final Hour" 
"Zion"
"Sweetest Thing"
"When It Hurts So Bad" 
"I Used to Love Him"
"Nothing Even Matters"
"Lost Ones" 
"Ex-Factor" 
"How Many Mics" by Fugees
"Fu-Gee-La" by Fugees
"Ready or Not" by Fugees
"Killing Me Softly" by Fugees
Encore:
"Turn Your Lights Down Low" by Bob Marley & the Wailers
"Could You Be Loved" by Bob Marley & the Wailers
"Doo Wop (That Thing)"

BET.com is your #1 source for Black celebrity news, photos, exclusive videos and all the latest in the world of hip hop and R&B music.

Click here to subscribe to our newsletter. 
(Photo: Courtesy Highline Ballroom/ Twitter)