Opinion: To Honor Dr. Martin Luther King Jr., Biden Should Take Action To Protect Black Voters
Despite bringing up the filibuster, the president's words mean nothing without action from him and the Democrats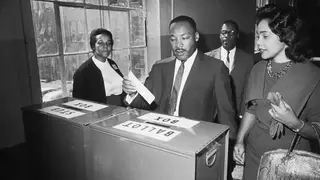 In 1957, Dr. Martin Luther King, Jr., said, "Give us the ballot, and we will no longer have to worry the federal government about our basic rights."
Sixty-five years later, we are still living in an era where the GOP continues to try and strip away voting rights and protest movements are criminalized. Our leaders who championed democracy – like Dr. King, like Fannie Lou Hamer, like John Lewis – fought for a better future, and that fight continues on today.
Since then, Black leaders have continued to lead the way to ensure our democracy is a right, not a privilege. Organizations like Color Of Change and Black Voters Matter continue to demand voting rights protections for Black people in this country, where Black voters
are still fighting — and being arrested for — their right to safely cast their ballots.
It's not just the ability to vote-by-mail or use ballot drop-boxes that is at stake here; it's the right for all Americans – particularly Black Americans – to participate in government. Right now, we're seeing basic rights being criminalized on a state and federal level. Elected officials in at least 43 states have coordinated attacks against Black voters. Since the November election, they've introduced more than two hundred fifty new bills suppressing our right to vote.
Since the summer of racial reckoning in 2020, state lawmakers have also tried to take away our right to protest injustice by introducing more than 100 punitive anti-protest bills — a blatant assault on the constitutional and human rights of Black people.
No progressive piece of legislation – and if we're being honest, no progress in this country – could have happened without Black voters and the organizers that led the way. John Lewis was one of those leaders, and despite his remarkable legacy on voting rights, the act that bears his name as a tribute is being blocked while state legislators are introducing racist, new, and increasingly harsh voter suppression laws. These laws replace poll taxes with ID laws, close polling places, and ban vote-by-mail.
Nothing continues to cause more damage to democracy in the United States than the
Senate filibuster, which has a deeply racist past as a mechanism created by senators interested
All hope is not lost. When Black people show their collective power to mobilize our communities
and vote, we change this nation's direction toward progress, racial justice, and real change for our communities and our country overall.
The 2020 victory for President Biden was powered by Black voters and organizers who overcame widespread voter suppression attempts to make sure their voices were heard, all during a global pandemic. In addition to winning the presidency for Biden, the victories of Senators Warnock and Ossoff in the 2020 Georgia Senate Runoffs were a direct result of deep, relentless organizing by the Black community.
Today, as we acknowledge Martin Luther King's birthday, we must also send a message to Biden and Democrats who continue to fail on their promises to Black voters: We've turned out in unprecedented numbers to make our voices heard at the ballot box and we will continue to march, sign petitions, call our senators and vote to protect our democracy. But our
support is not guaranteed and our patience is wearing thin.
In his iconic Letter from Birmingham Jail, Dr. King wrote that the greatest threat to Black progress is "the white moderate who is more devoted to 'order' than to justice."

That's never been more relevant than today when moderate democrats are holding our voting rights hostage to preserve the false sanctity of Senate rules that we actually put in place to hold us back. It is finally time for white moderates in the Senate, White House and even corporate leadership to choose democracy over order and tradition.
Dr. King helped write the blueprint for conscientious civic engagement – it's up to us to stop it from being undermined.
___________________________________________________________________________
Color Of Change is the nation's largest online racial justice organization. As a national online force driven by over 7 million members, we move decision-makers to create a more human and less hostile world for Black people in America. Visit www.colorofchange.org and follow on social @ColorOfChange.