Tubi's New 'Behind the Crime' Series Premieres With Nipsey Hussle Murder Case
The show launched on September 20.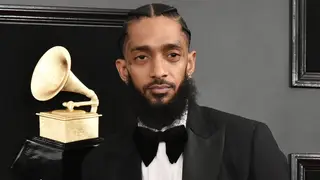 Tubi recently launched its newest true-crimes series, "Behind the Crime," with Nipsey Hussle's tragic 2019 murder as its first subject.
According to the series' description, the show "dives deep into the inner workings of the justice system with gripping cases that give viewers unfiltered access with real case footage."
Each episode "examines the crime from the investigation to the trial, and ultimately, the verdict as told from the intimate perspective of those closest to the case– the legal teams, jurors, and law enforcement, as well as the family and friends of the victims and the defendants."
Last February, a Los Angeles judge sentenced Eric Holder to 60 years to life in prison for the March 2019 shooting outside the emcee's Marathon Clothing story he founded in South Central Los Angeles. Holder received 25 years to life for the murder, 25 for a firearm sentencing enhancement, and 10 for assault with a firearm.
Check out the official trailer for "Behind the Crime" below.