Chris Brown Launches Unity Campaign With Aaliyah Song
Breezy: "I have a moral obligation to let go of grudges."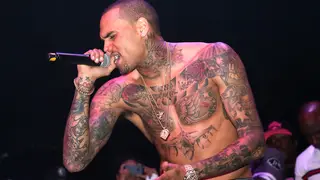 Chris Brown's long-awaited latest single/video, "They Don't Know," borrows from unreleased Aaliyah vocals, Jon B.'s 1998 "They Don't Know," and a scene from Boyz n the Hood. It also launches his Unity Campaign, which, according to his timeline, is to encourage "all races, genders, sexes, (everyone) gay or straight to love each other!."
Though there's no word on what else the Unity Campaign entails, the video opens with this message: "Every two hours in America today a child dies of a gunshot wound." It closes with a reminder of how short life can be: "RIP Lil Frogg 1987 - 2013" and a "we miss you" note to the late R&B icon Aaliyah. 
Breezy's mission statement was further explained in a series of tweets on his timeline: "As a young inspiration to all types of people around the world, I have a moral obligation to let go of grudges or bs." This after another recent declaration, "Artists worry about their brand. I worry about supporting my family!"
The positive unifying message in Brown's new single may come as a surprise to many given his history of "grudges or bs." Last week, news circulated that the investigation into the brawl with Frank Ocean is still ongoing. During the fight, Brown allegedly called Ocean a homophobic term. Brown has also been called out by gay advocates when he went on a paparazzi rant and used the word "gay" in 2011. Brown apologized for calling B2K's Raz-B a "homothug" on Twitter in 2010.
Brown has been unable to shake his bad boy image since his now infamous 2009 domestic dispute with then-girlfriend Rihanna. This new single could possibly be the beginning of a different public image for Brown and help spark a resolution in his contentious relationship with his neighbors and other celebrities rivalries.

 (Photo: Johnny Nunez/WireImage)