Deputies Fired After Two Black Men File Lawsuit Claiming Torture, Assault In Mississippi
Michael Jenkins and Eddie Parker claim that six deputies handcuffed and attempted to sexually assault them during an illegal search.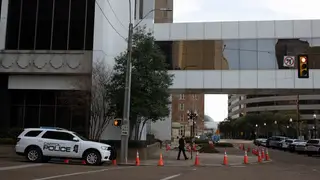 Several deputies were terminated in a Rankin County Mississippi Sheriff's office after two Black men filed a federal civil rights lawsuit claiming that they were tortured for almost two hours after six deputies illegally entered their residence, reports CNN.
Filed on June 12 in the US District Court by Michael Jenkins and Eddie Parker, the lawsuit names six deputies as defendants and Sheriff Bryan Bailey. Jenkins and Parker are seeking a total of $400 million in damages.
At a news conference on Tuesday, Rankin County Sheriff Bryan Bailey addressed the allegations and confirmed that officers named in the lawsuit were fired.
"Due to recent developments, including findings during our internal investigation, those deputies that were still employed by this department have all been terminated," Bailey said.
While Bailey declined to identify the fired officers by name, the defendants in the lawsuit include Rankin County Deputies Hunter Elward, Brett Mc'Alpin and Christian Dedmon, along with three more deputies identified as "John Doe," reports ABC News.
According to the lawsuit, Jenkins and Parker allege that on January 24 six deputies "forced their entry into the premises from several entry points without a warrant" and with no "reasonable suspicion or probable cause." The suit claims that the deputies"handcuffed, kicked, waterboarded, repeatedly used Tasers on the men and attempted to sexually assault them with a sex toy." The suit also alleges that one deputy put a gun in Jenkins' mouth and shot him.
Jenkins said that "he was severely injured, left alone to care for and treat himself as he stumbled out the door and fell."
"Unfortunately, Jenkins has suffered permanent physical injuries, permanent cognitive damage, long-term psychological damage, permanent disfigurement, and impairment," the suit says. Parker sought medical treatment as well for injuries sustained during the incident.
The deputies are accused of waterboarding Jenkins and Parker by "continuously pouring the liquids on their faces while both men were handcuffed … and forced on their backs," while using "vicious racial slurs."
"In their repeated use of racial slurs in the course of their violent acts, (the deputies) were oppressive and hateful against their African- American victims. Defendants were motivated on the basis of race and the color of the skin of the persons they assaulted," the suit said.
Bailey said that the Mississippi Bureau of Investigation has launched an independent investigation to address the matter.
Earlier the year, the FBI Jackson Field Office, the US Department of Justice's Civil Rights Division, and the US Attorney's Office for the Southern District of Mississippi announced that they opened a civil rights investigation into the incident.