Bobby Brown Remembers Bobbi Kristina on the 2nd Anniversary of Her Death
#NeverForget.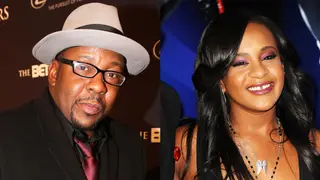 Wednesday (July 26) marked the two-year anniversary of Bobby Kristina Brown's tragic death. Although the past two years have undoubtedly been hard for the Brown family, Bobby Brown took the time to remember his late daughter with a musical video that would probably make Bobbi Kristina smile from ear to ear.
The King of R&B shared a black-and-white video of his daughter singing an acappella version of Adele's hit single "Someone Like You." "Today we remember you Bobbi Kristina. Say her name," Brown wrote in the caption.
After Whitney Houston's only child sang a couple of sweet verses, the video cut to information for the National Domestic Violence Hotline. The "Prerogative" singer also included more information about domestic violence in the caption, saying, "never forget if you or a loved one is in immediate danger."
Bobby Brown has been very vocal about his suspicions concerning Bobbi Kristina's death. He's previously alleged that his daughter's boyfriend, Nick Gordon, was in some way legally responsible for the sequences leading up to the time Bobbi Kristina was discovered unconscious in the bathtub in her Georgia home in 2015. Gordon was previously found "civilly liable" for Bobbi's death in Nov. 2016 and ordered to pay $36 million to her estate.
A criminal investigation into Gordon's involvement in Bobbi Kristina's death is still pending, but hopefully the Brown family will continue to heal as time goes on. Check out Bobby Brown's tribute video here.