Instagram Launches 'Love At First Slide' Series To Celebrate The Power Of Black Love
Eight couples found friendship, partnerships, and romance at the click of a button.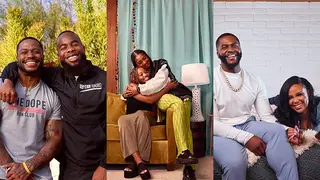 Sliding into DMs doesn't always have to be about social media drama, illicit affairs or fodder for rap lyrics. It can be the start of a beautiful relationship that comes in all different forms, romantic or otherwise. BET is partnering with Instagram for a new content series called "Love At First Slide" that show's just what's possible when someone makes the first move.
Take Alrick "Butta" Augustine and Branden Williams, two avid runners who became the best of friends after connecting on Instagram about their passion for running, wellness and community. Butta's Inglewood-based non-profit run club Keep It Run Hundred inspired Branden to start One Dope Run Club in San Diego.
"Love AT First Slide" also highlights the friendship between Jaconna Jacobs, a creative director, and Arial Robinson, a musician and multidisciplinary artist who is also completing her senior year at North Carolina A&T University. While it was grief over the death of a mutual friend that brought these two together, it was their shared passion for the arts and commitment to building a community of artists that lead them to their business partnership as the co-founders of DASOUFGOTSOMETHINGTOSAY, a directory for people to easily find other Black creatives from the South.
Of course, plenty of romances have also blossomed from seeds planted in DMs including Nichole Lynel and Tony Robinson Jr. who both host the It's Our Love podcast, where they talk about all kinds of relationship issues between modern-day power couples, including their own. Join Nichole, Tony, and seven other couples, friends, and partners for reels, videos and photos offering a deeper glimpse into how they connected in the DMs and found their way to genuine relationships showcasing Black love in all its glorious incarnations. 
Check out these other stories of "Love At First Slide" featured below on Instagram.
Justin McMullen and Danielle McDowell met in 2013 and for the first month after meeting, only spoke via DMs. Nine years later, they've detailed each blossom of their loving relationship on Instagram.
Ryan  Stokes and Tia Williams met in college but it wasn't love at first sight. In fact, they first started talking after Ryan followed Tia on Instagram and 'liked' three of her photos. She followed back and the rest as they say is history.
Drew discovered his model man Marcus on the company Instagram of a company that featured custom suits. After liking and commenting on a few pictures, he slid in Marcus' DMs. Marcus responded and three years later, Drew has since relocated to Atlanta to be closer to his bo.
Ashtyn  and Ashley  had been following each other on Instagram for a few years when Ashley took the brave first steps and slid in Ashtyn's DMs. After several missed opportunities, Ashtyn messaged Ashley asking if she still had a chance. Ashley responded, "You better hurry up before it's too late." Today, the two are engaged and preparing or a long future together.
Telsha  and Justin met during the pandemic. A few days after their first encounter, Telsha followed Justin on Instagram and slid in his DMs. A few days after that, they went on their first date. Eight months later they got engaged, and the newlyweds got married last Fall.