Commentary: The NCAA Should Boycott Indiana
Gov. Michael Pence and the state should pay for its "license to discriminate."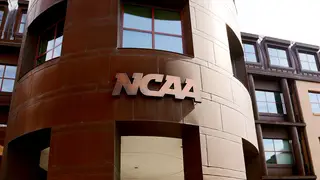 The NCAA can't weigh forever what it will do in Indiana now that the state's governor and legislators have passed what amounts to a "license to discriminate," a piece of legislation crafted with a Stone Age mindset.
The governing body of college sports needs to do – no, must do – something. The organization can't permit the state it calls home to discriminate, which is what the "Religious Freedom Restoration Act" does. It allows businesses and individuals to refuse to do business with lesbians, gays, bisexuals and transgender people.
The misguided law surely will wind its way through the legal system. At some point, the U.S. Supreme Court might hear a challenge to it, but no one can be altogether certain how the loony Roberts court would rule.
In the interim, the NCAA shouldn't wait to find out. Someone in the organization with a sense of where America is should lead the campaign to pull Indiana into the 21st century in the only way Gov. Michael Pence might understand: trashing his economy.
Already, companies like tech giant Salesforce have taken business from Indiana, and Gen Con, a giant convention for gamers in Indianapolis, threatens to move elsewhere, though not immediately.
Yet what might force Pence, a darling of Republican operatives, and other state legislators to rethink their position is for the NCAA to move its headquarters. The organization is better positioned than any other business to show what the cost of bigotry is.
And the cost must be high.
For we cannot sit back and allow bigotry to thrive openly. While such libertarian thought might sound to some people like giving power back to the individual, we all ought to know the danger of that sort of thinking.
A look at American history shows us the Deep South tried similar legislation for most of the last century when it passed law after law that denied equal rights to Black people in favor of rights for a white person. Those laws let bar owners, stores, restaurants and hotels not serve Blacks; those laws stopped Blacks from voting, which meant whites were free to govern without any regard for the interests of people of color.
What Indiana did was revisit the Jim Crow laws of the Deep South, laws that the high court chipped away one after another.
The changes didn't come easily in America's yesteryear. Blood was shed; lives were lost; and careers ruined. Changes don't come easily in America's today either – at least not in Indiana.
But we can't permit its bigotry to stand. We must marshal the same resolve we displayed in the Deep South. We fought injustice there with our lawyers, with our protests and with our dollars. The Deep South understood economics; so will Indiana if we oppose its bigotry. We can hit at the state in ways that force it to repeal its anti-gay law.
To start, pull the Big Ten championship games and any future March Madness tournaments, deny Indianapolis another Super Bowl, move the Indiana Pacers to Seattle and the Indianapolis Colts to Los Angeles.
We can't be cavalier about the importance of setting a wrong right. We must not cower to power. We must insist that being an American can't be compromised, even under the guise of religious freedom, that we stand with our LGBT brethren and that we will fight as hard for their equal rights as we fought and still fight for ours.
For a license to discriminate against one American is a license to discriminate against all Americans.
The opinions expressed here do not necessarily reflect those of BET Networks.
BET Sports News — Get the latest news and information about African-Americans in sports including weekly recaps, celebrity news and photos of your favorite Black athletes. Click here to subscribe to our newsletter.
(Photo: Joe Robbins/Getty Images)