Bill Cosby Prosecutors Trying To Take Case To U.S. Supreme Court
His lawyers call it a "pathetic" effort to reinstate his conviction.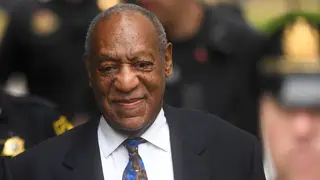 Prosecutors in Bill Cosby's case are fighting to bring his sexual asault case all the way to the U.S. Supreme Court.
According to the Associated Press, prosecutors are arguing against the Pennsylvania Supreme Court decision to overturn Cosby's conviction.
Montgomery County District Attorney Kevin Steele wrote in the petition, "This decision as it stands will have far-reaching negative consequences beyond Montgomery County and Pennsylvania. The U.S. Supreme Court can right what we believe is a grievous wrong."
The U.S. Supreme Court only accepts fewer than 1% of the petitions it receives so it is possible the case will not be heard. A decision on hearing the case is not expected until next year.
Cosby spokesperson Andrew Wyatt said in a statement,"This is a pathetic last-ditch effort that will not prevail. The Montgomery's County's DA's fixation with Mr. Cosby is troubling to say the least."
In 2018, the comedian was convicted of drugging and molesting accuser Andrea Constand at his suburban home. Cosby, 84, served more than two years of a three-to-10-year sentence at Philadelphia-area state prison. Previously, Cosby vowed to serve all 10 years rather than acknowledge remorse over the 2004 encounter with Constand.
In a ruling from the Pennsylvania Supreme Court, justices felt that the agreement with former Montgomery County, Pa. District Attorney Bruce Castor, which was not in writing, to prevent any criminal prosecution of Cosby in exchange for his civil deposition was in fact binding. It in fact should have prevented him from being prosecuted later, thus triggering a vacating of his conviction.
The overturning of Bill Cosby's sexual assault conviction was on legal grounds that do not necessarily determine his innocence or guilt, but center on an agreement made between his legal team and the original prosecutor who forced him to testify in a civil trial.
Cosby was also accused of sexual assault by dozens of other women, but could not be prosecuted on those allegations due to state statutes of limitations.