CDC Director Slammed For Calling Tuskegee Study Victims' Suffering A 'Sacrifice'
The 40-year syphilis experiment by government doctors involved 600 Black men who unknowingly participated.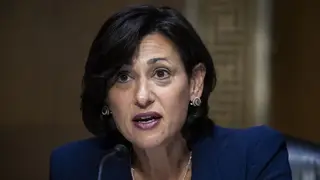 Centers for Disease Control and Prevention Director Rochelle Walensky faced outrage on social media for her tweet that was worded as saying the CDC will honor the "suffering & sacrifice" of the Black men deceived by the government into unknowingly participating in the notorious Tuskegee Syphilis Study.
The tweet, posted on Nov. 29, remained on the platform unchanged on Thursday (Dec. 1), despite comments from scores of furious Twitter users who wondered why it wasn't deleted.
In the post, Walensky mentions a CDC event on Nov. 30 to mark the 50th anniversary of the study's end. Ahead of the event, "I will be joined by colleagues & #PublicHealth leaders as we honor the 623 African American men, their suffering & sacrifice, and our commitment to ethical research and practice," her tweet stated.
The 40-year experiment by government doctors ran from 1932 to 1972. According to the CDC, the purpose of the experiment was to observe the progression of syphilis when left untreated, but participants were not informed of this and instead told they were being treated for "bad blood."
It initially involved 600 Black men – 399 with syphilis, 201 who did not have the disease. By 1943, penicillin was used to treat syphilis and become widely available, but the participants in the study were not offered treatment.
Reactions to Walensky's tweet ranged from those suggesting correction to the wording or urging her to delete it, to those who were outraged.