Porsha Williams Officially Moves Out Of Her Georgia Mansion And Happily Passes The Keys To Her Mom!
The RHOA star is ready to start the next chapter of her life with fiancé Simon Guobadia.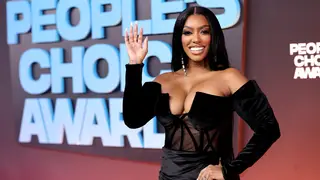 Porsha Williams and fiancé Simon Guobadia are taking their relationship to the next level by moving in together! On a recent episode of Real Housewives of Atlanta: Porsha's Family Matters, the soon-to-be-married couple went on a tour to find the perfect home together.
There's no question that Porsha is ready to start the next chapter of her life—even if she initially had pause about moving out of her Georgia home.
"My home for me has been a manifestation of my independence," Porsha revealed on the reality show. "Me working hard, being able to afford a home like this in a gated community, raising my daughter on my own, it has been very fulfilling to me. It does feel like I'm leaving a piece of Porsha."
She later reasoned that she's actually ready to "settle down" with Simon. To do so, the busy author moved out of her Duluth mansion and passed on the keys onto her mom, Diane Williams.
"New start! Moving day. Congratulations mommy. Now you can move all the furniture and decorate just how you want lol. If y'all know Fabulous Momma Diane then you know she is about to show out," Porsha happily captioned an Instagram photo showing a moving truck in front of the home.
She added, "It's such a blessing to be able to do something like this. God is so good!!"
She followed up her caption with the hashtags: #MsDianePalaceNow, #Spoiled, #UnderNewManagement, #BestMom, #BlessedAndHighlyFavored, #GolfCourseCommunity and #MovingCompanyOnSpeedDial.
According to Curbed Atlanta, Porsha purchased the 5,920-square-foot mansion for $1.15 million back in 2013. The five bedrooms and five-and-two-half bathrooms reportedly feature everything you'd want in a lavish abode—even a golf community!
What a start to 2022! We look forward to seeing how Momma Diane puts her personal stamp on her new home!