Why Has Migos' 'Culture' Album Disappeared From Streaming Services?
Fans quickly voiced their displeasure of the album's apparent removal.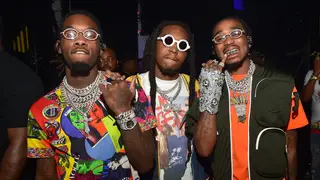 On the eve of the fifth anniversary of Migos' highly championed album, Culture, the 2017 project has mysteriously disappeared from streaming services.

According to Complex, fans were quick to speculate that the timing of the take down was meant to disillusion "Bad and Boujee" types to up the streams for the Atlanta rap group's critically and commercially successful album.
With singles such as the aforementioned "Bad and Boujee," "T-Shirt," and the Gucci Mane-assisted "Slippery," there's still hope for fans that Culture will return as Jan. 27 is the actual day of the anniversary.

The album is also the first in a trilogy of Culture albums that came to a close last June. At the time of this writing, Culture II and Culture III, remain streamable, with Migos celebrating the fourth anniversary of the former (Culture II) earlier Thursday (Jan. 27).