Boston Celtics Coach Ime Udoka Suspended For The Full Season
He is accused of an inappropriate relationship.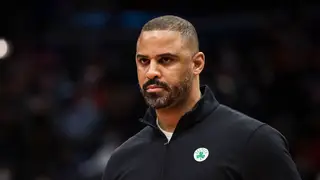 Ime Udoka, head coach for the Boston Celtics, has officially been suspended for the  entire 2022-2023 season.
A statement from the Celtics read: "A decision about his future with the Celtics beyond this season will be made at a later date. The suspension takes effect immediately."
Assistant coach Joe Mazzulla will serve as interim coach
According to ESPN, a source claimed Udoka, 45, reportedly had an inappropriate relationship with a female employee for the Celtics. The relationship was a violation of the team's policy and procedures. The Athletic reports some members of the Celtics organization became aware of the relationship in July.
Udoka said in a statement, "I want to apologize to our players, fans, the entire Celtics organization, and my family for letting them down. I am sorry for putting the team in this difficult situation, and I accept the team's decision. Out of respect for everyone involved, I will have no further comment."
Ima Udoka became head coach of the Celtics last year after successfully coaching three other NBA teams.