'RHONY' Eboni K. Williams And Other Cast Members Get In Heated Conversation
The June 1 episode of the Bravo show was intense.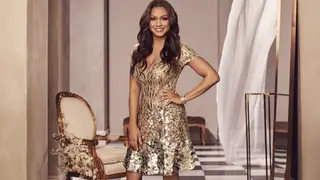 The Real Housewives of New York City got heated during Tuesday night's episode on (June 1).
After Luann de Lesseps asked Eboni K. Williams to leave her home, the castmates found themselves in a tense exchange that became slightly racially insensitive, People reports. Williams is the show's first Black housewife.
Things took a turn after Williams alleged that she was the "most educated" housewife among the cast. 
In case you missed it, Ramona Singer and Leah McSweeney started to butt heads over whether it's appropriate to discuss sex openly with friends. Luann attempted to discuss her point of view on vulgar language and said it didn't line up with her conservative viewpoints. That's when Williams stepped in and disagreed.
"I don't subscribe to the fact that to use those words means you're unclassy or not a lady," said Williams.
"It has nothing to do with class; it has to do with education," de Lesseps responded.
Williams then pivoted her comments and said she believed that she was "more education than anybody at this table." She also alleged that she was the "most educated person in this group" and felt comfortable discussing sex topics.
Trying to keep the conversation moving forward, Williams began to grow frustrated at the rest of the cast's lack of understanding and then raised her voice.
"Why are you getting so angry?" said de Lesseps.
"Oh, now I'm the angry Black woman," Eboni replied.
"I'm not going there," said Luann. "You're an angry woman right now. I never referred to your color, nor would I."
Later continuing, "I think you should go. You need to calm down and think about what you just said was very offensive to us."
The Real Housewives of New York City airs Tuesdays at 9 PM ET on Bravo.