South Central's Calmatic Dishes On 'House Party,' Loving Music, and the Impact of the L.A. Uprising
The music video director turned filmmaker talks about his artistic growth and staying true to his community.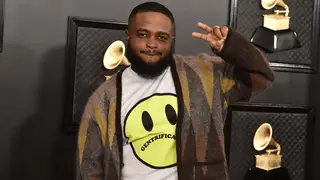 Right now is a great time for Black creatives and filmmakers.
From TV shows like Abbott Elementary and Bel-Air reshaping the game to artists like Muni Long and Jazmine Sullivan shifting the musical landscape, the transition from Mayberry PD to a multifaceted and melanated viewing experience has made audiences root for everybody Black.

For Calmatic, a Los Angeles bred-artist, music producer, and filmmaker behind the upcoming House Party and White Men Can't Jump remakes, has consistently been "The People's Champ" since first helming Ab-Soul's "Nothin New" in 2011, which also featured Jhené Aiko. Crediting his love of J Dilla and MF Doom with informing his rhythmic approach to filmmaking, the man born Charles Kidd II, has shot eye-popping, grounded clips for the likes of The Internet, Tyler, the Creator, Lizzo, Anderson .Paak, and Kendrick Lamar.

Signed to William Morris Agency and a disciple of renowned director Paul Hunter ("Hypnotize," "How Does It Feel?") — Calmatic's hyper-kinetic camera work and editing style were ideal next to Lil Nas X's meme-ified, genre-barrier-breaking raps, as together "Old Town Road" transcended TikTok and took over the globe as an award-winning phenomenon.
BET.com was able to get a bit of time from the in-demand director to talk about how music continues to be his North star now as a filmmaker, champions the brilliance of Vince Staples, dishes about his House Party goals, and shares how 30-years later the L.A. Uprising still encourages him to grow.
---
BET.com: Your name has rung bells throughout rap music for years now, but many are just getting familiar with your work in film/TV. Can you bring the BET.com readers up to speed about who you are, how you got your start, and what creative influences led you to this moment as the director behind House Party and White Man Can't Jump?
Calmatic: Long story long, man, I started off as a musician — really a beatmaker and a rapper. I used to bounce all over Los Angeles working with different artists and that was how I started to get known around the artistic scene in the area. During that journey, I literally stumbled and fell into using a camera.
My natural instinct from there was to just capture all of my friends. They just so happened to be Anderson .Paak, Dom Kennedy, and these other artists would wind up becoming legends. I went from being a musician along for the ride to — with my camera — capturing what was going on and making videos for others.

That's how I started. I connected with this group called Overdoz, who were some of my childhood friends, and I started filming them and their work. As they got bigger, our budgets got bigger, and I was able to expand my creativity as a result. After that, one thing led to another, and then I ended up doing videos for some of the top artists in the world.

I believe that what influences my filmmaking is not only my background in music — because it is hard for me to claim that I'm a filmmaker — but how everything I learned from music inspires all that I do regardless of the medium. No matter how distant I am from music, I'll always include some kind of musical element in whatever I do. I've learned that my philosophy is wrapped within the music and bringing it into my art only means that music inspires everything that I do regardless of the medium.
BET.com: Your ties to the Crenshaw/South Central area run deep and are rooted in creativity and advocating for the Black community. What about your upbringing inspired the need to humanize artists and their experiences in your work? And is that something you hold as important as you enter into directing your first feature films?

Calmatic: As I mentioned before — music inspires everything I do in my life. I am always thinking about a J Dilla beat or a crazy verse from Kendrick [Lamar] and how those hidden riddims and philosophies are ripe to apply to my everyday life. It's good that you mentioned Tiffany Gouché because her music is how I feel like as a filmmaker. Her music gives off something familiar but still sounds nothing like anything you've ever heard before. Even if the riddims and notes are slightly off, her music evokes a feeling that gives makes you feel at home. It hits you in the face and I try to create moments in the film that replicate that similar feeling.
To be honest, I don't even know how successful I am at that, but it is that energy that influences my approach. I want my approach to be where a watcher can tilt their head one way and see one thing, or tilt their head a little bit more to another side or angle, and the visuals still work as well. Every time I make a film, I attempt to live up to what that feeling of music does to me.
BET.com: Your fame grew immensely after directing Lil Nas X's "Old Town Road," but for longtime hip hop heads, you were associated as part of the directing cabal associated with Kendrick Lamar (A-Plus Films, The Little Homies, Colin Tiley). What have been some memorable moments in working with KDot that are indelible to you and have carried over into your other work?

Calmatic: With Lil Nas X, working with him was an all-around dope experience as there were so many different moments that have influenced the way I approach visual storytelling. For me, however, it was talking about algorithms regarding social media and how music videos can play into those trends. Speaking with Lil Nas about his creativity, when we were coming up with the treatment, he was pointing out illuminating things that shifted my mindset. He would say, 'Alright, let's do it this way because people are going to take this five-second clip and turn it into a meme on TikTok,' and he was right.
He opened my eyes to the importance of making visuals into moments, not just memorable, but almost meme-able to where he has it down to a science. And I learned how to hack the new way that things are consumed when it comes to social media with the younger generation. The other thing I learned from him was that just because the project is literally the biggest song in the world, doesn't mean that you have to match it with the biggest, craziest video of all time.
It inspired me to go against the grain and let one's instincts dictate what happens creatively. As far as Kendrick [Lamar], I haven't worked with Dot in a while. We did a lot of his earlier stuff together around Section.80 and Overly Dedicated. What I love about him is how curious he is when it comes to different styles of art and things going on around him. He isn't shy to ask about who an artist is or who painted a certain mural. I remember one time — before we all had money — when we were driving around L.A. trying to find the next location for a video shoot.

I was playing this group called KING, and he had never heard of them or the song I had on before. He wanted to know and then the next thing you know he has it worked into a song on Section.80. If you look at his music and the sonics he, Sounwave, and all of those TDE producers come to the table with, sometimes a sample may be obvious, but most times they pull sounds that come from only being a curious listener and thinking outside the box. Two things that I keep handy in my toolbox as well.
BET.com: You're also a frequent collaborator with the smart and hilariously focused Vince Staples. Can you describe the nuances of your working relationship, what is happening with The Vince Staples Show, and if you feel like executives are afraid of his brand of comedy?

Calmatic: [Laughs] I can't get into the specifics, but just know that s**t is still happening. Vince and I talk on the regular, and it involves us perfecting the project. I can say that it is moving in the right direction, but for those wanting extra details, I can't yet talk about it.
When it comes to our working relationship, man, it is so easy because there is trust there. It's hard to gain an artist's trust, to be able to speak freely around them, and throw out ideas without feeling like you might not ever get to talk to them again if you misspeak. Vince isn't like that at all, man. He's an open-minded individual who loves to collaborate and bounce ideas off the wall.

He is a genius with a host of stories that come out of his mouth so naturally, it's ridiculous [laughs]. Within the last week, he's nonchalantly texted me two random things and easily they could be an episode for our project. If you think his tweets are funny and his interviews are thought-provoking, imagine having a private conversation with him and it is that times 10! Once he finds the time to put it all down on paper, it's going to be one of the most exciting things to come out in a while. I am super excited for him about that, yeah!
BET.com: You recently wrapped House Party, which caused a healthy stir given how cherished the 1991 classic is to Black people. According to you, this is not a reboot, but a "new look for a classic movie," which leads me to ask: What fond memories of House Party do you have that you were able to actualize during production? What was it like working with the Emmy-nominated duo of Stephen Glover and Jamal Olori?
Calmatic: I don't know if we were able to bring any special moments or memories from the original film into this version. This House Party is a whole new movie, man. It just so happens to be called House Party. Obviously, we're paying homage to certain elements like how in the original Martin Lawrence was the DJ and in our version, DC Young Fly plays the DJ, which makes for some similar tones there.

But the goal behind this House Party is to make it a whole new film for a whole new generation. I think people are going to be extremely surprised by the film. I think that I'm going to have to answer this question a million more times once the movie actually comes out [laughs]. The majority of this film's impression will be made thanks to the writers, Steven Glover and Swank (Jamal Olori). When I first read the script, I was in, and as a big fan of Atlanta already, House Party gave me those vibes instantly. It felt as if this film would be what if Atlanta were to be made into a movie.

In House Party, we can explore all of these possibilities and tell crazy jokes for damn near two hours [laughs]. It is one of those films where there will be so many things in it, but all of it is to be unexpected. I'll tell you right now, on the day House Party comes out, there are going to be eight different trending topics based on the crazy s**t going on. There will still be a few Easter eggs that fans of the original will be able to notice, but it's not going to be like Martin Lawrence and Tisha Campbell playing somebody's parents.
It's not going to be like that.
BET.com: With the film now in post-production, can you share early reactions from LeBron James and Maverick Carter? How was it to work with SpringHill Productions? What did you learn about their creative mission that you want to apply to your future projects?
Calmatic: Yeah, yeah, man. Mav [Maverick Carter] and LeBron [James] text me and told me how much they love the film. We got to screen it together in South Central recently and everyone was on the floor crying and laughing. House Party is definitely going to be a big deal when it drops, man, and I'm super excited for everyone to see it.

I'm also very appreciative of those brothers for creating this opportunity for a filmmaker like me to create. There isn't telling how long it would've taken me to make a Black movie with a major studio if it wasn't for a company like SpringHill Entertainment to make that opportunity available for me. I'm forever grateful for that. And that's what I like about SpringHill — they're committed to diversity. A lot of companies try to have this, but it isn't as thorough as SpringHill when it comes to investing in diverse storytellers and projects.

I worked on that Crypto.com commercial with LeBron and usually in that space — when it comes to creatives on the agency and client sides — it is just a bunch of white people. You might get a couple of people of color every now and then, but you hardly ever see us in these places where decisions are made. Thankfully, that was not my experience while working with SpringHill. Not only were there Black and brown faces, but they were also of a certain, and more in alignment with today's hip hop generation.
I was able to talk to the screenwriter behind that commercial spot, we were able to make those cultural references that were important to LeBron, and the secondhand dialogue between us was effortless and I didn't have to explain myself at length or write it out in a way for them to understand it. It was just a breath of fresh air that I'd never experienced before, but made for something that was really special.
BET.com: Last question, Cal is pegged to your upbringing. You survived the '92 L.A. Uprising, which turns 30 this year, and from there limitless possibilities happened for Black creatives across music, film, and TV. What are your lasting impressions from that historical event that still impact you and your work today? Also, how do you look back on the L.A. Uprising, and what lessons learned from then can you share with today's creatives who are looking to stretch the limits of viewers' reality?
Calmatic: It's really crazy that you said that, man. I am an amateur historian when it comes to Los Angeles, especially when it comes to the L.A. Uprising. Which, to be frank, I find funny because during the 25th-anniversary there was a lot of talk about changes and plans made, but with the 30th-anniversary, there's nothing really being talked about. It is [still] early, so who knows what's going to happen, but with my experience growing up in L.A., the Uprising was one of the most defining moments of my life.

I was barely four or five years old, but I remember that s**t like it was yesterday. I remember smelling fire and smoke in the air. I remember driving past burnt buildings. I remember listening to the radio and hearing people talking about their own experiences. It all stuck with me because it was one of the few times in L.A. where I saw people come together under one cause meant to be a positive thing.

That energy is something I try to carry on into my life. L.A., right now, is changing so fast. It's hard to keep up these days with gentrification being one thing and the cost of living being so high. I feel like with the passing of Nipsey Hussle — that was the second time where I felt that sense of togetherness from L.A. as a whole. It is energy that is still continuing and growing. There's a pride in being from here that I haven't seen in a long time, especially now more than ever because every day we're losing a piece of our history.

Thankfully, there are so many community activists and artists that are keeping that energy alive. Six Sev is a great example of someone who is doing that — part community activist, part dope rapper, part influential fashion designer, and graphic artist. He's doing so much for the community that I don't remember kids doing that when they were his age. From hosting concerts and encouraging kids to run for office, I come across those types of individuals now more than in the past because they realize just how important our history is to this world.
They don't look at the fancy "lights, camera, action" side of L.A. They come from a more grounded, friend-based background and have taught me how to look inside to find inspiration and changed my outlook on life. 
---
Kevin L. Clark is a screenwriter and entertainment director for BET Digital, who covers the intersection of music, film, pop culture, and social justice. Follow him on @KevitoClark.