7 Best Meditation Apps To Help With Stress And Anxiety
Your journey to calm could be just a download away.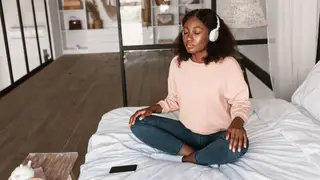 World Meditation Day is May 21, and it is the perfect time to remind yourself destress and unwind. And while meditation won't remove all the triggers and stressors that exist, it can bring you some calm and peace. It can be practiced in groups as well as alone. If you find it hard to settle down and focus, using a meditation app is a great way to block out distractions and relax your mind. 
Here are seven meditation apps to try. 
_____________________________________________________
Calm

With more than 100 million downloads, the Calm app has been a certified go-to since it launched in 2012. Featuring guided meditations, ambient music, and bedtime stories narrated by celebrities like LeBron James and LeVar Burton, it's no wonder Calm has hundreds of thousands of five-star reviews.
COST: Free seven-day trial, $70 annual premium subscription


Insight Timer

Don't have much time for meditation right now? Insight Timer might be what you're looking for in an app. The 130,000 guided meditations can be tailored to fit into your schedule (hence the name) and there's even a chart to help you keep track of your progress.
COST: Free, premium feature purchase options


Mindfulness App

Whether you have three minutes or 30 minutes, the Mindfulness App has a little something for everyone. There are tips from professionals, breathing techniques, and specially crafted challenges to keep you sharp during those dull days at home.
COST: Free, $60 annual premium subscription option


Headspace

Cultivating clear focus is one of the main features of Headspace. With fun illustrations and auditory help, the app also includes meditation guidance designed just for kids. Right now, Headspace as unlocked some of its premium content for people in need during this COVID-19 pandemic.
COST: Free two-week trial, $70 annual premium subscription


Relax Now

As the name suggests, the Relax Now app  is meant to be a de-stressor. Recordings from a certified hypnotherapist along with therapudic videos are designed to either energize the start of your day or calm you to sleep, depending on whatever effect your heart desires.

Breathing App

Sometimes, you just need to be still and breathe. The Breathing App can help facilitate that for you, especially now when the value of a deep breath is so important. Best-selling author and Oprah favorite, Deepak Chopra co-developed this tool. It's simple to use and maybe best of all, it comes at no cost to you.
COST: Free


Simple Habit

Simple Habit is streamlined to help you navigate life's daily tensions. With sleek visuals and calm audio, Simple Habit is a good place to start if you're unfamiliar with meditation. The app is free through the end of April 2020 to help anyone who wants help dealing with COVID-19 related stress.
COST: Free through April 2020, $11.99/month, $96/year