Young Thug Puts Himself In the Middle of Birdman and Charlamagne's Beef
The rapper is taking sides.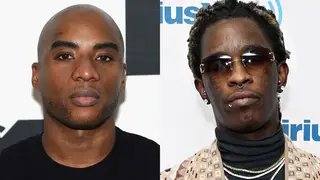 Birdman's demand of respect in front of The Breakfast Club on Friday and subsequent beef with Charlamagne tha God has created a ripple effect throughout the hip hop community, and Young Thug is the latest star to get involved. The Cash Money rapper stepped to the YMCMB boss's defense, posting a video making some serious threats to the radio personality.
"Charlamagne, [I'll] make ni**as torture you, boy," he said. "Gonna beat the f**k outta you. We're gonna beat that f**k ni**a up."
Watch the shocking clip below:
The drama started when Birdman's interview on The Breakfast Club went awry after he warned the hosts to not smear his name. "I want to start this thing off straight telling all three of y'all stop playing with my name," he said. "Stop playing with my f**king name."
Since the interview, Birdman has reportedly issued an apology to the radio hosts, but his crew doesn't seem to be ready to do the same.
(Photos from left: Jamie McCarthy/Getty Images for MTV, Cindy Ord/Getty Images)