Rodney Jerkins Reveals The Ugly Truth About Royalties After Writing A Hit For Justin Bieber
The producer wants to bring reform to the billion dollar industry.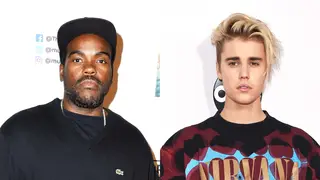 The new age of streaming is slowly but surely weighing its toll on the music industry. And this rings particularly true when it comes to the pockets of songwriters. So much so that music executives like Rodney Jerkins are now pushing for reform of the current billion-dollar industry. 
Last month, during a panel at the Recording Academy, the seasoned producer spoke before a crowd of music professionals about his past work with Justin Bieber. Jerkins, whose credits include hits for Sam Smith and Beyoncé, detailed how he partnered with a burgeoning songwriter from Norway, Andre Lindall, who eventually ended up penning a hit song for the pop star.
However, the songwriter's shared figures from a royalty statement for Bieb's "As Long As You Love Me," a top 10 hit on Billboard's Hot 100, didn't allow him to generate nearly a fourth of what the single earned three years later. According to Jerkins, by 2013, the song earned a total revenue of $146,000 through BMI. The four-time Grammy winner broke down the figure to royalties of $53,000 from 347,827 radio spins and $7,065 from 1,509 exposures on Sirius XM.
The next set of numbers drew gasps. More than 38 million Pandora plays earned the songwriter just $278, while in excess of 34 million YouTube streams generated a mere $218. "If he owned 100 percent, on YouTube he would have made $1,100 and on Pandora $1,400. Those numbers are criminal," Jerkins proclaimed.
The solution, according to the panel and moderator Todd Dupler, Recording Academy senior director of public policy, is to lobby for legislative change by connecting with elected officials, an effort that has slowly been producing results for creatives.