The Internet Is At War Over XXXTENTACION's Controversial Past Following His Death
Fans are rushing to his defense while others are rushing to that of his victims.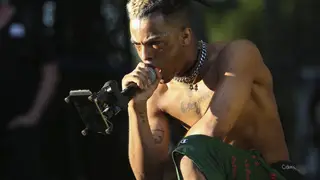 As controversial as he was creative, fallen Miami rap artist XXXTENTACION left behind a revered catalog of stirring, cathartic music, a faithful group of fans, and—to the detestation of some—a contentiously violent past.
At the time of the 17 rapper's shooting death on Monday (June 18), which left him in critical condition before fatally succumbing to his injuries, X was the internet's hottest topic of debate only a week prior for New York Times' vexatious and viral investigative feature story, The Real Story of South Florida Rapper XXXTENTACION.
The article cracked open the intimate details of X's alleged history of violence, specifically the domestic abuse allegations from his ex-girlfriend Geneva Ayala and an incident of brutally attacking a gay juvenile inmate for staring at him while he was naked, X explained in the story. The onset of his meteoric, SoundCloud-pioneered hip-hop fame paralleled his ongoing legal battles where felony charges against X included assault with a deadly weapon and robbery, while his domestic abuse trial unfolded, with charges of false imprisonment, aggravated battery, witness tampering and witness intimidation. Intense online and physical harassment aimed at his former girlfriend from angry fans followed and was only further ignited by a GoFundMe account that she'd created to help pay for medical treatment of the alleged injuries from the "SAD!" rapper.
Even still, some fans argue that X was on a promising path to recovery and self-rehabilitation, bringing to light many of his charitable, philanthropic deeds he'd taken to in recent months and shaming anyone who has celebrated his tragic death. But according to others, his unsavory past taints his legacy, and if anything deserves to be acknowledged it's the people he left victimized in his short 20 years of life.
See their positions on the life and legacy of the late Jahseh Dwayne Onfroy.