Interview: 'Black Panther: Wakanda Forever' Stars Lupita Nyong'o And Danai Gurira Share How Chadwick Boseman Influenced The Franchise's Success
The stars also share how the sequel serves as a "love letter" to the late famed actor.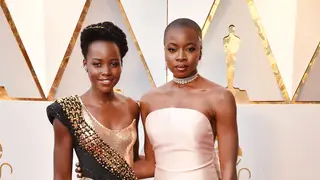 Black women are showing up and showing out this year in leading roles and rightfully. The upcoming Black Panther: Wakanda Forever film allows Angela Bassett, Letitia Wright, Lupita Nyong'o, Michaela Coel, and Danai Gurira the space to show Hollywood why we need more films to showcase just how talented and captivating movies can be with Black women leads.
In a conversation with BET.com, Nyong'o expresses how she "hopes to God" this film will start a new wave of future films to cast Black women in top-billing roles.
"Films take a long time to make so the question is 'what's in the pipeline' and who has the power to make these things," she said.
"I think many of us are stepping into producer roles, and hopefully, this inspires more stories about Black women to be greenlit."
Gurira also told BET.com with as many stories being produced; there's no reason why Black women shouldn't be leading in them.
"There are tons of Black women completely capable and are darn good at that," she expressed.
"The trends of Hollywood, I don't pay much attention to — I'm looking to create paths."
As we gear up for one of the most highly anticipated sequels of the year and honor Chadwick Boseman for his contribution to the film's success, Gurira tells BET.com how committed the late actor was and how he created the authenticity of the franchise.
"Chadwick gave 100% in anything he was going to do — if it was an accent, he was going to do that accent, or if it was a fight sequence, he was going to get that done. He gave his all to everything," she shared.
"He allowed us to create this world — if the role were in any hands, it wouldn't of resulted in the first Black Panther. He did that when he was introduced in Captain America, where he decided his character has to speak like an African because he was from a country that wasn't colonized — he wasn't educated in Europe; he was educated in his nation. He put that forward as the exact template, brought in the language of Hausa, and created the authenticity for the film's legacy. This resulted in us having an astounding legacy to stand on and the hope and prayers; we hope this resonates in honor to him for everyone who will go watch."
Nyong'o shared her sentiments during the interview, sharing how the sequel is a "love letter" to Boseman.
"He left an indelible print on us and this franchise," she expressed.
"This film is a love letter to him — we all intended to honor him and pay tribute to him. I think that will be felt for the rest of the life of this story. I don't know how you can erase him — you can't."
Grab your tribe and head to theaters to see Black Panther: Wakanda Forever in theaters on Friday, November 11th.
---
*This interview has been edited for length and clarity
Ty Cole is a New York-based entertainment reporter and writer for BET.com who covers pop culture, music, and lifestyle. Follow his latest musings on Twitter @IamTyCole.