Interview: Ryan Coogler Says Chadwick Boseman Would Be Excited About 'Black Panther: Wakanda Forever'
The director also tells BET.com the most challenging aspect of making the film.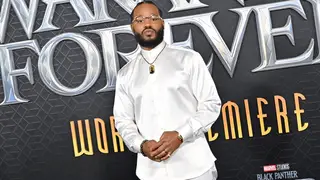 Black Panther: Wakanda Forever is conquering theaters on Friday (November 11). The highly anticipated film gives Chadwick Boseman a beautiful tribute and a sendoff that will satisfy fans around the globe.
Unfortunately, the world lost Boseman to cancer in 2020, and although his talent will be missed, director Ryan Coogler tells BET.com how "excited" the late star was for the sequel.
"I spoke with [Chadwick Boseman] about what this film was going to be, and I know he was excited," Coogler shared.
"This film we were able to complete carried a lot of the things Chadwick was excited about. I could sense what kind of films he liked and what would excite him — he was a deep thinker and could see a lot in small things while simply explaining vast concepts. He would enjoy the attempts in the film."
Coogler continues, sharing how it "wasn't a challenge" to include Boseman's presence in the film despite not being physically present.
"It wasn't a challenge at all in terms of still making his presence known because he's with us all the time," he expressed.
"In the screenplay, the character he portrayed so well is always discussed, and you feel his absence. Chadwick was a giant of a man and left a big mark on the world; people who may not meet him, but the mark he made on people who could experience him was substantial. Making the film without Boseman was difficult and daunting, but we had to lean into it."
As far as meeting his end goal for the upcoming film, Coogler
"It's multi-layered goals," he began.
"The first goal is to finish the movie, and there were times when the goal wasn't guaranteed — luckily, we accomplished it, which is satisfying. The second goal is to make a movie that affects the audience on a visceral level. I want them to think about it after they watch it and want to see it again — become inspired by the film to create their projects. For me, that goal is the hardest to measure because you don't get clarity on it for quite some time after its release. The last layer is making sure we gave it our all and to make sure we made something Chadwick would be proud of."
In the first episode of an upcoming podcast centered around the behind-the-scenes action with Coogler in the process of making the sequel, the Creed director gets emotional about his relationship with his Howard University buddy and details how he had to have "difficult conversations" at Marvel about how the first Black Panther would portray the mythical world of Wakanda, noting Boseman had a vision as the movie was planned.
The first episode of Wakanda Forever: The Official Black Panther Podcast is available on Spotify. Other episodes are set to be released in January to commemorate the 5th anniversary of the first Black Panther release.
You can head to theaters this Friday to see Black Panther: Wakanda Forever and watch the interview in full below.
*This interview has been edited for length and clarity
Ty Cole is a New York-based entertainment reporter and writer for BET.com who covers pop culture, music, and lifestyle. Follow his latest musings on Twitter @IamTyCole.