New Music Friday: Doja Cat, Lola Brooke, and Brent Faiyaz Start Your Week With A Fresh Batch Of New Tunes
Tune in every Friday to catch songs you need to add to your rotation.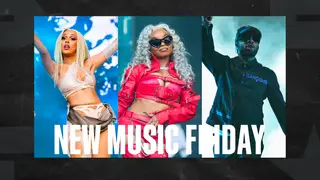 Another week is just about in the books, which means we've arrived at another New Music Friday. Formally New Music Monday, our weekly music roundup brings you sounds from across the the world of music, including hip-hop, R&B, Afrobeats, and the alternative realm.
This week is headlined by a few singles, including ones from Doja Cat – off her new album Scarlet, Lola Brooke – with Bryson Tiller, and Brent Faiyaz. Every one of them should get your weekend started right.
So, without further ado, check out this week's New Music Friday selections below.
Doja Cat: "Agora Hills"

On Friday, Doja Cat released her latest album Scarlet, which features the single and new video for "Agora Hills."

Lola Brooke (feat. Bryson Tiller): "You"

On Friday, Brooklyn's Lola Brooke released her latest single "You." Featuring Bryson Tiller, the song relays the charisma and talent the Bed-Stuy native's been known for.

Brent Faiyaz: "WY@"

This week, Brent Faiyaz released his latest single "WY@" along with the accompanying visual.

Jean Dawson (feat. SZA): "NO SZNS"

This week, punk rocker Jean Dawson released his latest single "NO SZNS," featuring SZA.

CHIKA: "Demigod"

This week, CHIKA released her latest single with "Demigod" prior to hitting the stage at the Life Is Beautiful Festival this weekend.

Little Brother: "Wish Me Well"

This week, Little Brother released their newest single and video for "Wish Me Well."

DC The Don (feat. 6LACK): "OUT OF MY BODY"

On Friday, DC The Don released the deluxe version of his album FUNERAL, featuring the 6LACK-featured "OUT OF MY BODY."

Sarz (feat. Skrillex & Crayon): "YO FAM!"

Nigeria's Sarz released his new Skrillex and Crayon-featured new single "YO FAM!" recently. It's off his upcoming debut album set to drop at the top of next year.

Asha Imuno (feat. Rizz Capolatti): "DID I CALL AT A BAD TIME?"

This week, Asha Imuno released the second single from his upcoming debut album Pins & Needles with the Rizz Capolatti-featured "DID I CALL AT A BAD TIME?"

Jae Murphy: "R.B.P.B."

Jae Murphy celebrates his newly announced NYC residency at Deluxx Fluxx with the release of his new single "Rich Black Poor Black."

Bonus Heat #UpAndComing: Check out Danny Tower's brand new song/video "Heavy," featuring Tony Shhnow

It's one of our new favorites!