Meghan Markle's Sister Is Reportedly Being Investigated For Cyber-Bullying The Duchess
Authorities did not suggest the bullying complaint came from the royal family.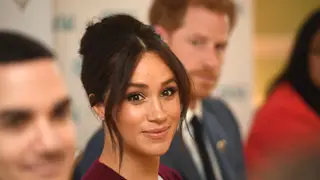 Meghan Markle's half-sister Samantha Markle has become the target of a police probe into online bullying, according to The Mirror.
The investigation was launched by American detectives since she lives in the United States and comes after Samantha wrote a series of controversial messages about Meghan and her husband Prince Harry.
It is uncertain what was contained in the messages. However, authorities hinted that the complaints which sparked the investigation did not come from the royal family.
"There have been multiple reports of allegations of cyber-bullying made," says an officer working on the case for the Polk County Sheriff Department in Florida, according to The Mirror. "Samantha Markle is aware of this allegation. She has not been arrested. This is an ongoing case and I cannot speculate on a timeline yet or make any other comment."
This is just the latest drama brought on by the Duchess of Sussex's family. Meghan's father Thomas Markle caused controversy for his infamous scheme selling private photos around the time Meghan married Harry. Last month, Meghan's nephew Thomas Dooly was charged with a felony after resisting arrest in Hollywood for alleged indecent exposure. 
The revelation about the cyber-bullying inquiry into Meghan's sister comes days after the release of an ITV documentary, in which the Duchess and new mother speaks about the unfair treatment she's gotten from the British press. During the interview, , Markle says she was unprepared for the magnifying glass she'd be under after marrying Prince Harry.
"I had no idea," she said. "Which probably sounds difficult to understand here, but when I first met my now husband, my friends were really happy because I was so happy, but my British friends said to me, 'I'm sure he's great, but you shouldn't do it because the British tabloids will destroy your life.'"
A source in contact with UK tabloid The Mirror says four countries are involved in making the cyberbullying allegations, including the United Kingdom, Canada, Sweden and the U.S.
"It is a large and widespread investigation and is likely to be a long process," the source told the paper. "The investigation is still at an early stage."