Can Video Games that Glorify Danger Encourage Teens to Drive Recklessly?
Drunk driving, speeding and accidents are all associated with aggressive risk-taking video games.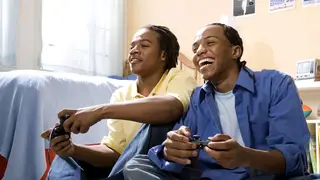 It's not a secret that African-American youth consume more media than anyone. Black teens consume media on average four hours more every day than white children do, especially television, music and video games, according to a 2011 study conducted at Northwestern University,.
And we get it: Video games can serve as a break away from real life. But a new study warns that sometimes fantasy can become reality, and that's not a good thing if the games you play promote dangerous behavior. Researchers from Dartmouth College found that teens that play risk-glorifying video games with mature themes may be more likely to become reckless drivers.
In four rounds of surveys taken over a span of four years, researchers interviewed 5000 teens from the U.S. and found that these same teens are more likely to get in car accidents, be pulled over by the police and drink and drive.
In the first interview, researchers found that:
—50 percent of the teens reported that they play mature and violent video games in the home.
—Thirty-two percent said they had played Spiderman II, 12 percent had played Manhunt and 58 percent had played Grand Theft Auto III. All three of these games have been linked to risk-taking and thrill-seeking.
What they found in the second and third wave of interviews was really interesting:
Between the second and third interviews, teens who said they had been pulled over by the police increased from 11 percent to 21 percent; those who said they had a car accident went from 8 percent to 14 percent. In the third interview, when the teens were about 16 years old, 25 percent said "yes" when asked if they engaged in any unsafe driving habits. In the final interview when the teens were about 18, 90 percent said "yes" to at least one of the same risky driving habits: 78 percent admitted to speeding; 26 percent to tailgating; 23 percent to failure to yield; 25 percent to weaving in and out of traffic; 20 percent to running red lights; 19 percent to ignoring stop signs; 13 percent to crossing a double line; 71 percent to speeding through yellow lights; and 27 percent to not using a seatbelt, writes  Science Daily.
Obviously, this isn't mere child's play.
"Most parents would probably be disturbed to learn that we observed that this type of game play was more strongly associated with teen drivers being pulled over by the police than their parenting practices," Jay G. Hull, the study's lead author, told Science Daily. "With motor vehicle accidents the No. 1 cause of adolescent deaths, popular games that increase reckless driving may constitute even more of a public health issue than the widely touted association of video games and aggression."
It's important to point out that their sample of participants was diverse. Gender-wise, almost half were female and in terms of race and ethnicity, 11 percent were black; 62 percent were white; 19 percent were Hispanic, 2 percent were Asian/Pacific Islander; and 6 percent were multiracial.
In the end, while Grand Theft Auto may have a reset button, your life does not. Please act responsibly and think before you get behind the wheel.
BET Health News - We go beyond the music and entertainment world to bring you important medical information and health-related tips of special relevance to Blacks in the U.S. and around the world. Click here to subscribe to our newsletter.