Isiah Thomas's Son Reveals He Was Raped Twice in Emotional Interview
Zeke Thomas speaks out against sexual assault in a new PSA.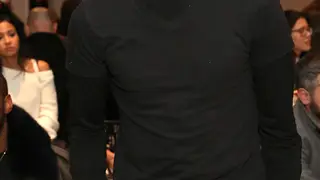 A painful admission made to help give fellow victims a voice.
That's the way one could view Zeke Thomas, the son of NBA legend Isiah Thomas, appearing on Good Morning America today and revealing that he was raped twice. He hopes starring in a PSA released today by the National Sexual Violence Resource Center as part of Sexual Assault Awareness Month will help other victims.
"I want to give the voiceless a voice," Thomas told Robin Roberts in the GMA segment this morning. "The healing really begins with the voice. The healing begins with, 'This happened to me. I can get through it.'"
Thomas, 28, was raped at the age of 12 and again in a separate incident just last year.
Thomas, who's a DJ, producer and artist, candidly spoke about each sexual assault with Roberts. 
"Being gay, being African-American, it's definitely something that I never imagined would happen to me," he said about being a rape victim. "At first I didn't realize what had happened, what had transpired. I knew that it was wrong, I knew that I did not want it. I did not seek it out. I hadn't let my family know until much later that this had happened."
He added, "It was definitely hard for them to hear, and even more hard for them to hear that it happened again."
He continued, saying that he was "terrified" to be raped again last year, adding, "I really felt that my manhood had been taken from me."
Thomas didn't press charges in either rape, saying he "just wasn't ready" and didn't want be known as a "victim."
"If I could go back, there's 100 percent I would press charges," Thomas said. "If we could find ... the assailant today, I would 100 percent press charges."

Watch his full segment of GMA below.
The Centers for Disease Control and Prevention reported that there are upwards of 19.5 million men who are victims of contact sexual violence over the span of their lives.
"I'm encouraging more victims to come forward," Thomas said.
And his family, including his NBA Hall of Famer dad, has his back.
"They let me know they're here for me," Thomas said, "and [that], 'We're gonna do everything in our power to help you through this journey.'"
BET Sports News — Get the latest news and information about African-Americans in sports, including weekly recaps, celebrity news and photos of your favorite Black athletes.