The BeyHive Is Dragging Tomi Lahren After She Came For Beyoncé In The Worst Way
"Don't hurt yourself."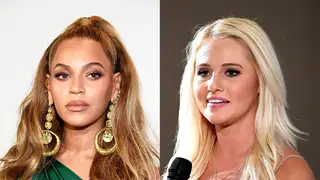 While 2017 may be coming to a close, Colin Kaepernick continues to have a monumental year as he racks up accolades for his selfless activism. On Tuesday night (Dec. 5), the former 49ers quarterback was honored with Sport Illustrated's Muhammad Ali Legacy Award for his decision to kneel during the national anthem in protest of police brutality. 

While that shouldn't have come as a surprise, what did was none other than Beyoncé presenting the woke free-agent quarterback with the prestigious award. The Lemonade singer's guest appearance, however, appears to have ruffled the feathers of tone-deaf political commentator Tomi Lahren. 
Upon presenting Kaep with the prestigious honor, Bey gave a riveting speech praising the athlete. "It feels so good to be here on such a special night of appreciation," the singer said after taking the stage. "Thank you, Colin Kaepernick."
"Thank you for your selfless heart and your conviction," she continued. "Thank you for your personal sacrifice. Colin took action with no fear of consequence or repercussion — only hope to change the world for the better, to change perception, to change the way we treated each other, especially people of color."
Photos of the duo instantly set social media ablaze as they began making their rounds online, with many fans singing their praises. But, it didn't take too long for Lahren to catch wind of Bey's speech and add her two cents. "Police-hating Beyoncé presents police and America-hating Kappy with a 'legacy' award," she wrote.
"This is how far we've fallen" she continued. "Wow."
After criticizing Kaep on Thanksgiving Day, one would imagine that Lahren had learned her lesson about subtweeting. But perhaps unleashing the wrath of the BeyHive should do the trick. Shortly after Lahren's critique of Bey went viral, swarms of fans sent off a barrage of tweets aimed at the TV host. 
Take a look the BeyHive ruthlessly checking Tomi Lahren for her comments below.