Jada Pinkett-Smith Tells Her Side Of The Story About The Time In Her Marriage When She Cried For '45 Days Straight'
Will Smith revealed the private anecdote on her talk show.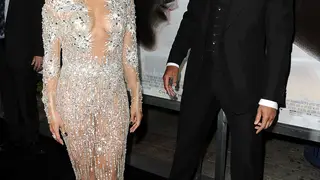 During the sit-down conversation on Jada's Facebook Watch talk show, Red Table Talk, the Concussion star explained a time during their marriage when she cried for "45 days straight." Now, in a follow-up interview, the actress is expounding a bit more on the cause of that somber moment.
Speaking with Bossip, Jada clarified that her famous husband did not cause her tears. Rather, it was something she caused, as she explained.
"It wasn't about him," she said. "It's really misleading. I wasn't crying because of Will. I was crying because I had created a life for myself where I wasn't happy. It wasn't him."
While explaining what to expect from the highly anticipated forthcoming episode, she shared that they touch on her not being "a conventional wife" in their marriage.
"We talk about this a lot in the episode, so maybe I'll save it because I don't want to give away too much," she told the site. "I won't say 'disappointed,' because I always knew that I'm not really built as a conventional wife, and you'll find out more about that when you see the episode."
Revisit the clip where Will revealed the unexpected shortcoming in their marriage, below: