The Oral History of 2Pac's 'Makaveli' Album: How A Michael Jackson Feature Almost Happened
For Black Music Month, relive the hip hop superstar's first posthumous release after his untimely murder.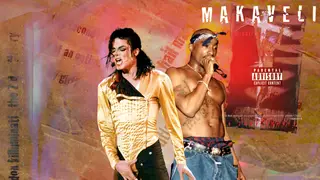 Tupac Shakur was literally one of the biggest hip hop artists in the world in 1996. Out of jail following a sexual assault charge and signing to controversial gangsta rap label Death Row Records a year prior, the multi-hyphenate artist reached a new pop culture apex when his appropriately titled fourth full-length project All Eyez on Me dropped in February that year. The double-disc project featured classic singles such as "California Love" and "I Ain't Mad at Cha" which debuted at No.1 on both the Billboard 200 and R&B/Hip Hop Album charts before eventually becoming certified diamond a decade later. Meanwhile, 'Pac was embroiled in a feud with Bad Boy Records after the release of scathing diss track "Hit Em Up," which fueled the bicoastal rap war that ultimately led to both his and The Notorious B.I.G.'s still-unsolved murders.
Heading into the next phase in his artistic evolution, ''Pac had several empire-building plans beyond music. He wanted to move behind the camera as a screenwriter and director, and create more opportunities for disenfranchised Black youth — an ode to his background with The Black Panthers. The outspoken rapper was transitioning into a role as a music executive. This was through the founding of the Outlawz. Members included himself, Rufus "Young Noble" Cooper III, who currently co-leads the group, Yafeu Akiyele "Yaki Kadafi" Fula, Malcolm "E.D.I. Mean" Greenridge, Mopreme "Komani" Shakur, ''Pac's stepbrother, Katari "Kastro" Terrance Cox, 'Pac's cousin, Bruce "Hussein Fatal" Edward Washington Jr., Mutah "Napoleon" Wassin Shabazz Beale, Tyruss Gerald "Mussolini" Himes, and Donna "Storm" Harkness, the group's only woman member. 
Named after various controversial political figures, the Outlawz had already been featured on All Eyez on Me and the Bad Boy diss track "Hit Em Up," but needed a real push. For that, 'Pac decided to create a project that would serve as a true debut for the group while adding new mythology about himself, which was inspired by an Italian Renaissance figure he learned about while incarcerated in New York's Clinton Correctional Facility.
The end result would become — The Don Killuminati: The 7 Day Theory.
"I remember him wanting it to be a mixtape," explained Young Noble, who said that 'Pac originally wanted to press up the CDs himself to be given out for free. "He just wanted to drop something to set the streets on fire and push the Outlawz before he got into whatever the next solo project was going to be for him. He was like 'Yo, we going to do a mixtape real quick. This shit going to be crazy, [only] a couple of songs and just set the whole f*****g streets on fire, give this s**t away for free.'"
The Don Killuminati was recorded over three days at Can-Am Studios in Tarzana, California and mixed/mastered in four days as 'Pac was filming what would eventually be his final film Gang Related. Between being on movie sets, music video sets, and the recording studio, the feverish 'Pace didn't allow for much downtime according to E.D.I. Mean. "If we weren't trying to get with our lady friends at the time, we were sleeping and trying to really find to rest when we could," he told BET.com exclusively over the phone.
Around 21 songs were completed during those three days with 12 making the final cut of The Don Killuminati. Leftover tracks would eventually make it onto the Outlawz's debut project Still I Rise including "Baby Don't Cry (Keep Ya Head Up II)," "Letter To The President," "The Good Die Young," and others.
The Outlawz were featured on four of the tracks on the album including the intro "Bomb First (My Second Reply)," which was a follow-up to "Hit Em Up," and aimed at enemies of ''Pac at the time, which included Sean "Diddy" Combs, Mobb Deep, Chino XL, and Jay-Z. The latter would later reinterpret the song "Me And My Girlfriend" into "'03 Bonnie & Clyde" with Beyoncé.
"I just remember when 'Pac went and laid his verse and I was like 'Holy s**t,' described Young Noble who was also co-starred on the track. "There wasn't no holding him back. He was speaking exactly what was on his mind and his heart. He was in mash mode, man. That's the best way to describe it, man. But I remember when he laid his s**t out, he trying to corner the market, man. He [was] trying to shut down the competition for real."
E.D.I. Mean, who was also featured on the track, which samples the James Brown "More Peas" bassline from Naughty By Nature's "Uptown Anthem," also mentioned 'Pac co-producing the track alongside Darryl "Big D" Harper in only a day.
"If you listen to 'Bomb First,' it's out of key and we didn't care," said E.D.I. Mean. "We was like this s**t dope and 'Pac like it, so I liked it. We were like f**k it. The way you hear it today is the way we did it that night. Nobody came in and added anything to it."
Other tracks featuring the Outlawz like "Just Like Daddy," "Life of an Outlaw," and the album's final single, "Hail Mary," allowed 'Pac to push them in more creative directions. More aligned with woman-catering songs like "Keep Your Head Up," "Just Like Daddy" was initially supposed to be for Still I Rise but 'Pac liked the track so much that he decided to keep it for Don Killuminati in exchange for what would become the song, "Baby Don't Cry."
"I loved how we was all harmonizing on a hook with him," said Young Noble of the Hurt-M-Badd-produced record. "It was just a great feel-good record. Our main thing was we love to do the hard stuff. So when he was forcing us to do those different records, I enjoyed that as an artist. Just trying to widen my range, watching how successful he was from doing those types of different records."
Even Don Killuminati's last and most successful single "Hail Mary" was something initially out of their artistic range at the time, according to Noble.
"It's crazy because that's one of the biggest records that I've been on," Young Noble explained. "It's a classic record. M***********s know that record word for word on every corner of the earth, man. And I didn't even want to get on the record at first. Coming from the East Coast, I like more uptempo, aggressive songs, and it just felt like church to me. I don't know, at the time in the studio, I just really wasn't feeling it like that."
Thematically, 'Pac's alias was inspired by 15th-century Italian philosopher Niccolò di Bernardo dei Machiavelli, who wrote the classic political essay book The Prince. According to E.D.I. Mean, he was initially as confused about the inspiration as those unfamiliar with the book's author. Then again, it also displayed the extensive literary background ''Pac always had, thanks to his mother Afeni Shakur.
"One of my favorite movies is 'The Mack,' so I thought this project was going to be on some player s**t," joked E.D.I. Mean. "That's not what he was talking about. 'Pac definitely educated everybody about this individual, [Niccolo] Machiavelli. 'The Prince' was a book about not being deceitful but playing the game raw as we say in the streets. Because of that, we decided to change our monikers at the time to what we have now. That's just how genius 'Pac was."
'Pac took things further by collaborating with a Compton-based artist named Ronald "Riskie Forever" Brent for the cover art for Makaveli. Riskie, who met the rapper through Suge Knight, was initially working on insert art for All Eyez on Me. He got the job after artists Joe Cool (Doggystyle) and Hen Dog (Death Row logo creator) were unavailable.
"[Death Row president] Norris Anderson told me he wanted to paint Tupac on the cross and needed me to come up with a concept art in like two hours," explained Riskie while speaking to BET.com. "So I found a picture of a guy on the cross, took a recently released 'Source Magazine' cover with 'Pac on the cover that had been released that year, cut the head off of that, and pasted it to the Black guy on the cross. I knew that the private area was going to be kind of showing so I put the 'Parental Advisory' sticker there."
Days later, he showed an unfinished concept to 'Pac himself who made the addition of having a roadmap on the cross, compass, and names of different cities from around the United States.
"I was like, 'Alright, I don't understand,'" described Riskie who used parts of a Thomas Guide for the map on the cross. "He was like one day you will. It made sense later when I took it to him and he started telling me about it. He was naming off different cities he had frequented in, knew where it was going down, and had things he could relate to."
According to Riskie, he believes it was Death Row founder Suge Knight who later added the disclaimer: "In no way is this portrait an expression of disrespect for Jesus Christ" as a way to curb even more potential controversy since the album was released two months after 'Pac's murder in Las Vegas. Years later, Riskie fell on hard times and quietly sold the original painting on eBay for $3,000 after the initial $100,000 bid fell through on the auction site and as of last year reacquired it from the previous owner in Trinidad. An auction for the original painting alongside a digital NFT release started in May of this year and is set to end on June 18.
Knight also was the one who convinced 'Pac to change the focus from a mixtape to an album alongside the original working idea of The Three Day Theory to The Seven Day Theory, according to E.D.I. Mean.
"Suge was being a businessman and he told 'Pac to hold on," he said during his chat with BET.com. "Suge was like you still owe me an album and let's make some money off of this s**t and not give it away for free. That's how you get songs like 'Toss It Up' and that's like the one record that Suge begged 'Pac to put on there."
Besides removing the back cover featuring unflattering caricatures of Notorious B.I.G., Diddy, and Dr. Dre once 'Pac had passed, Knight made other changes. The initial tracklist featured more production from musician and documentarian Quincy Delight Jones III. Though the final tracklist only featured one track produced by QDIII through the single, "To Live & Die In L.A.," the original version had tracks that would eventually be reworked or released on other post-mortem projects including "Friends" and "Thug Nature" which originally interpolated his father's 1983 produced hit for Michael Jackson called "Human Nature." 
There were even talks of getting "The King of Pop" featured on the track.
"So I set up a meeting at Neverland [Ranch]," recalled QDIII, who recently completed the five-part Dear Mama documentary with director Allen Hughes about 'Pac's relationship with his mother Afeni set for release this year. "I go up there and told Michael about it. And do you know what Micheal said? He liked Biggie."
'Pac's relationship with QDIII was special not just because of his famous father or the fact that they were close to becoming brother-in-laws. Unlike many producers on the project, QDIII already came with instrumentals ready for 'Pac. It's the same approach that landed him a production spot on All Eyez on Me's final track "Heaven Ain't Hard 2 Find."
"I was one of those people who would sit and fiddle with stuff forever because I'm a perfectionist times 10," QDIII said. "I learned that from Dre in the early days as I would play people like one out of every ten beats I made. 'Pac would take all my beats including the ones I would never play for people. I learned a lesson that you gotta be spontaneous more and he taught me how to just think and just do it. 'Pac would get irritated when you sat there and fiddled with sounds almost like you were disrespecting his time a little bit."
When 'Pac wasn't telling QDIII about his plans to put The Don Killuminati on the internet or eating crabs together during meals, watching the late rapper during The Don Killuminati sessions was a tense experience but never negative.
"I would say he was manic," explained QDIII. "There would be moments that called for quiet voice and candles and all that and he would be screaming and smoking Newports. He was on fire with this manic push. He was always pushing. You could tell he wasn't comfortable in some way and there was something that was making him uncomfortable."
Compared to everything else on Makaveli, "Toss It Up" featuring K-Ci & JoJo, Aaron Hall, and Death Row singer-songwriter Danny Boy sticks out compared to the other tracks on the album as Knight wanted something for radio. It didn't help that the song at first was originally produced by Dr. Dre before he left Death Row. He would send a cease and desist letter and later use the instrumental as the base for his Blackstreet hit "No Diggity." This would lead 'Pac to record the track with producers Demetrius Shipp and Reggie Moore in addition to adding some disrespectful bars toward Dre, Diddy, and Lil' Kim. "Toss It Up" received a music video treatment alongside "To Live & Die In LA," but 'Pac's death would prevent a video for "Hail Mary," which ended up going with a horror film vibe.
"Toss It Up" was released as a single 13 days after 'Pac's death and didn't get much of a push leading more into the album. One of the first music journalists to receive a copy of the album was Soren Baker who was writing for Rap Sheet, The Source, and HITS among others while attending Xavier University in Cincinnati, Ohio. Baker says that the album had a bit of mystery to it, especially since 'Pac was murdered two months prior.
"Back then labels mailed promotional albums but I got the actual album about a week before it came out with the artwork and everything," explained Soren who currently hosts the video series Unique Access. "I knew it was coming out but details were missing. All Eyez on Me was still dominating, Tupac had just been killed and there was just so much confusing commotion and all that going on."
The Don Killuminati received polarizing critical acclaim as it lacked the commercial grandeur of All Eyez on Me, but kept the venomous and aggressive tenor that he was known for. However, 'Pac's first postmortem release was more in line with Me Against the World, according to rap journalist Soren Baker.
"I found that what was present throughout Makaveli was that you got a lot more of the 'thoughtful' side of Tupac or his introspective side," said Baker in a phone call with BET.com. "And I thought that's where he really excelled as an artist. You get 'To Live & Die in L.A.,' where it's him talking about what's so great about L.A. And then 'Krazy' and 'White Man'z World,' I thought both also could have been on 'Me Against the World.' Maybe not production-wise as much, but like thematically. Tupac was at his most powerful when he was examining society as well as his own inner workings and inner demons. That's what I thought made him so dynamic as an artist."
One thing is for sure, The Don Killuminati added a new layer to the 'Pac mythology between the title, the Machiavelli inspiration, and his murder that's still unsolved to this day. There's still a subsect of 'Pac fans that still believe he's alive and well in another country. The Don Killuminati album when released on November 5 debuted at number one on the US Billboard 200 and sold 664,000 copies in its first week. Eventually, the album would go on to sell over four million copies and become all-time favorites for future legends like 50 Cent and J. Cole.
"Because 'Pac had been shot and survived before I think it was just hard for people to believe that he was really gone," explained Baker. "And then with 'Makaveli,' for those that didn't know much about [Niccolo] Machiavelli or 'The Prince,' once people started really understanding that correlation there, it drove people wild and this was long before social media. It definitely had a lot of people talking, writing articles, and wondering and speculating as to how or why Tupac chose that name. Was that a Death Row decision or was that an Interscope decision? It was just all very bizarre."
The media circus that 'Pac created in both life and inadvertently in death made The Don Killuminati one of hip hop's first significant postmortem releases. With an impact that still reaches the culture today.
"And that's the blessing of the album but it's also a lot of the disappointment I have with the album because this was the last album of music that he actively worked on to my knowledge," explained Baker. "And that shows that we lost a great artist and that's so disappointing for the music. But then also as a person, of course, we lost somebody who was an interesting, innovative thinker."
---
Ural Garrett is a Los Angeles-based entertainment and tech writer documenting the intersections of pop and digital culture. Follow him at @UralG on Twitter.