Ja Morant Gets Statement Of Support From Nike Amid NBA Investigation
The Grizzlies star has a signature shoe line with the sneakers giant.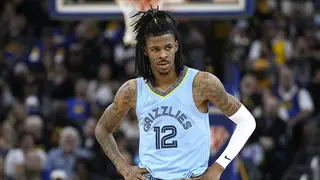 Nike isn't ripping up its partnership agreement with Memphis Grizzlies star Ja Morant despite recent incidents, including an Instagram Live video in which he flashes a gun on camera.
"We appreciate Ja's accountability and that he is taking the time to get the help he needs. We support his prioritization of his well-being," Nike said Saturday (March 4), ESPN reported, noting that the athletic sportswear giant has a signature shoe line with Morant.
In the video, the 23-year-old point guard was seen shirtless and rapping along with music while holding a handgun with his left hand. The video session began at 5:19 a.m. Saturday (March 4) at a nightclub after the Grizzlies' 113-97 lost to the Denver Nuggets.
NBA spokesman Mike Bass said later that day that league officials were aware of the video and launched an investigation. That was followed by a Grizzlies announcement that Morant "will be away from the team for at least the next two games."
Morant apologized in a statement posted to his Instagram account, saying he takes "full responsibility for his actions" and planned to "take some time away to get help."
Before the March 4 gun incident, Morant was accused last summer of involvement in threatening a Memphis mall security officer and assaulting a teenage boy, The Washington Post reported.
Police records show that the security officer told the police that Morant "threatened" him and another person in Morant's group shoved him in the head during an altercation in the mall parking lot. But no arrests were made.
In the other incident, a 17-year-old boy told the police that Morant and his friends repeatedly punched him during a pickup basketball game at Morant's house. But Morant told the police that the boy had been the aggressor.