Ja Morant: NBA Star Suspended After Instagram Gun Flashing Video
Grizzlies say He will miss "at least two games;" NBA is investigating.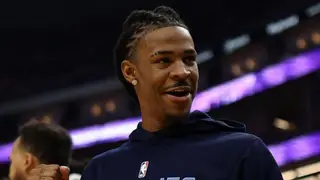 The NBA has launched an investigation into a video of what appears to be NBA All-Star Ja Morant flashing a handgun during an Instagram Live early Saturday morning (March 4).
According to ESPN, the Memphis Grizzlies announced later in the day their decision to suspend Morant "for at least the next two games," in addition to not allowing him to travel with the team.
Hours after a tough Friday evening 113-97 loss against the Denver Nuggets, Morant appeared shirtless and rapping along to a NBA YoungBoy song in the Live video. Following the backlash, he deactivated his social media accounts.
Morant issued a statement later Saturday, taking "full responsibility for my actions last night."
"I'm sorry to my family, teammates, coaches, fans, partners, the city of Memphis and the entire organization for letting you down," the statement read. "I'm going to take some time away to get help and work on learning better methods of dealing with stress and my overall well-being."
Nike, which produces Morant's signature shoe, released a statement: "We appreciate Ja's accountability and that he is taking the time to get the help he needs. We support his prioritization of his well-being."
It's the latest controversy for Morant, who was at the center of two other incidents from the summer of 2022. The Washington Post reported a confrontation between Morant and a mall security guard in a parking lot, as well as an incident involving a 17-year-old boy who alleged Morant displayed a gun in his waistband after a fight occurred between the two during a pickup basketball game in the NBA star's backyard.
"Any and every allegation involving a firearm has been fully investigated and could not be corroborated," Morant's agent, Jim Tanner, said in a statement. "This includes the NBA investigation last month, in which they found no evidence."
The investigation Tanner referred to is the Jan. 29  confrontation between Morant's acquaintances and an Indiana Pacers traveling party near the team's bus in the loading area of FedExForum in Memphis.
Later that night, someone in a SUV, in which Morant was a passenger, flashed a red laser at them, The Athletic reported. Two people with the traveling party could not confirm who shined the laser, but believe it was attached to a gun.
If Morant misses the next two games, he will be set to return for Thursday night's (March 9) home game against the Warriors.