Aretha Franklin's Sons Head to Court Amid Tensions Over the Queen of Soul's Lucrative Estate
The Queen of Soul left two handwritten wills with opposing instructions.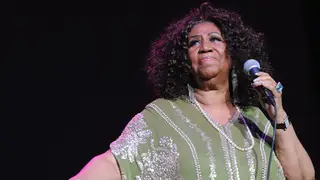 A rare battle over Aretha Franklin's estate begins next week as her sons head to court to determine which of two handwritten wills, including one found in couch cushions, will dictate how the Queen of Soul's assets will be handled five years after her passing.
The case's unusualness stems from a Michigan law, section 700.2502, which allows for documents with scribbles, scratch-outs, and other handwritten amendments to be considered. Both documents have two different dates and sets of instructions.
The matter has since left Franklin's son Ted White III, who benefits from the 2010 edition, at odds with his brothers Kecalf Franklin and Edward Franklin, who gain more from the 2014 interpretation, the Associated Press reported.
In the initial will, White and the Grammy Award-winning singer's niece, Sabrina Owens, are listed as co-executors and stated that Kecalf and Edward "must take business classes and get a certificate or a degree" to benefit from the estate. It's best to note that Owens stepped away from the situation in 2020, citing a "rift" among the brothers, and was replaced by local lawyer Reginald Turner.
However, in the later document, White's name is crossed out, and educational courses are not mentioned. Kecalf and the grandchildren would receive his mother's main home in Bloomfield Hills, valued at $1.1 million at the time of her death and has since increased in value. Furthermore, her gowns could be auctioned or go to the Smithsonian Institution in Washington.
Still, one request remains the same on both letters stating that her oldest son, Clarence, who lives under guardianship, must be regularly supported.
Legal representation for White claimed that the 2010 will was notarized and signed, while the later version "is merely a draft." "If this document were intended to be a will there would have been more care than putting it in a spiral notebook under a couch cushion," attorney Kurt Olson told the publication.
Franklin's assets are reported to be worth millions and includes real estate in suburban Detroit, furs, gowns, jewelry, and future royalties from her career's works. The "Respect" singer's friend and businessman Ron Moten reportedly told the men, "My advice? Go slow, be careful, and be smart" at the funeral of the late musical icon.
The singer died at 76 in her Detroit home on Aug.16, 2018 following a longtime battle with medical complications from pancreatic cancer. It was immediately reported that the "Chain of Fools" singer had no will or trust at her death.