K. Michelle Shows Off Her Natural Curves Post-Booty Shot Removal
K, is that you?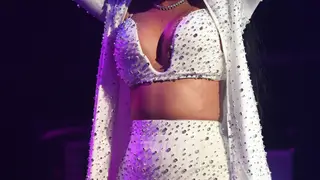 K. Michelle's been talking about her booty shot removal horror story that involved four surgeries, two blood transfusions, and still includes a fifth reconstructive surgery to undergo, but in the meantime she's showing off her natural curves. While we've seen the R&B singer out and about, even performing since her surgeries, her latest post shows a much different looking K. Michelle than we're used to.
Her hips and thighs are significantly smaller, but in a very natural and flattering way. She's even sporting a more natural glam than usual. No doubt, K. Michelle has been through a lot over the past few months, so fans were delighted to see her looking healthy and happy.
The comments section was flooded with positive messages from her followers. "You look amazing K! I'm so proud of you 😍" one commenter wrote under the post. Another comment read, "You look so beautiful Kimberly @kmichellemusic"
We'll continue to follow her progress and wish her the best in the upcoming months!