This Weekend: Here's What to Watch, Listen to & Experience
Spend time off with Megan Thee Stallion, Genesis Owusu, and dvsn.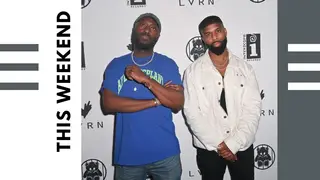 When it comes to content, it's easy for us to stick to what we know or want that old thing back. But for a rare few, being a true content connoisseur is about being on top of what's hot, what's trending, and what's next. Luckily, this new guide is everything for your music, literary, film, TV, and live experiences needs.
Each week, yours truly, Kevin L. Clark, will be your go-to advocate, spotlighting all those content cravings worth enjoying.
You're now tuned into This Weekend, a weekly round-up for content culture lovers and those who love to avoid FOMO.
For Friday, July 22, this week's episode finds us with some freshly-discovered treasures for you, your family, and friends to get into + share with others. It contains a healthy dose of sonic vibes, live experiences, and, of course, something streaming that's a feast for the eyes.
So bon appétit to all those true savants who are purveyors of content culture out there.
---
For Listeners Only:
One of my favorite chalés, Genesis Owusu, is back and better than ever with his statement-making track, "GTFO." Showcasing his trademark warmth and otherworldly lyrics, Owusu invites listeners into his innermost thoughts over some attention-getting production thanks to Michael DiFrancesco (Touch Sensitive), Jono Ma, Andrew Klippel, Dann Hume, and Spike Stent. The Rhett Wade-Ferrell-directed visual is meditative and introspective and, indeed, is one that is worth your time.
"Hot Girls Up 100000000000000," tweeted Megan Thee Stallion as she excitedly readies her sophomore follow-up to 2020's Good News. Two months since "Plan B," which found her decimating detractors over a Jodeci-sampled track, she returns with "Pressurelicious," featuring Future. As one of her favorite rappers, Tina Snow promises more songs to be of the turn-up vein, and I, for one, cannot wait to see what comes from this.
Friends in my head, dvsn — the critically-acclaimed R&B act comprised of singer Daniel Daley and Grammy Award-winning producer Nineteen85 — release this conversation-starting new single called "If I Get Caught." Accompanied by an equally thought-provoking new video, "If I Get Caught," delves into infidelity and how it impacts a relationship. This is one where, if you're dating or courting that you should play just to have a great discussion.

Special Mentions: There is also some exceptionally dope work from the likes of Lady London ("What's It Giving"), Xavier Omär ("Tarrantino"), Spice ("Clap Clap"), Tamela Mann feat. Yolanda Adams ("Superheroes Prayer"), Doechii & SZA ("Persuasive"), India Shawn ("EXCHANGE"), Channel Tres ("Just Can't Get Enough"), and Omah Lay ("i'm a mess") that you cannot afford to miss.
Watch The Streams:
After Insecure ended, everyone has been anticipating what Issa Rae is going to do next. Rap Sh!t, her new half-hour comedy, was inspired by not only Miami's City Girls but how social media played a definitive role in Cardi B and Megan Thee Stallion's breakouts as music superstars. In the series, Shawna (Aida Osman) and Mia (KaMillion), reunite as former high school friends to start a rap group and navigate the complex music industry. It is such a good start that we've put together a non-spoiler explainer about the show and spoke with Issa and Rap Sh!t showrunner Syreeta Singleton — please read both now!
Nope, the highly-anticipated horror/sci-fi film by Jordan Peele is in theaters starting today, and it is worth checking out on hype alone. Starring Keke Palmer and Daniel Kaluuya as a brother-sister duo who fall under the gaze of a UFO terrorizing a small town. Full of wonder and sensationalism, it is billed as one of the biggest movies of 2022, and BET.com was able to speak with Kaluuya and Palmer in an exclusive chat, which you can read here.
Billy Porter is one Oscar away from a coveted GETO (Grammy, Emmy, Tony, and Oscar), and is looking to possibly make that happen with his film, Anything's Possible. Making his directorial debut, this LGBTQ+ project is about Kelsa (Eva Reign), a Black transgender girl navigating her senior year of high school, and how her relationship with cisgender boy Khal (Abubakr Ali) causes some controversy within their respective social groups. Porter describes Anything's Possible as an "aspirational story," which should inspire you to tune into this film when it airs this weekend.
Live at the Experience:
If you're not in Miami, but want to be there for this year's Rolling Loud Festival, don't worry; they got you covered. Streaming exclusively live via Twitch, the 2022 Rolling Loud will also feature artist interviews and behind-the-scenes on Spotify so that you don't have a case of FOMO while being in the comfort of your own home.

Check out the streaming/performance times below and click on the Twitch link to see things live.
---
Check back to BET.com and BET Digital for more weekly installments of This Weekend.
Kevin L. Clark is a screenwriter and entertainment director for BET Digital, who covers the intersection of music, film, pop culture, and social justice. Follow him on @IAmKevitoClark.