This Day in Black History: July 16, 1977
Janelle Penny Commissiong-Chow becomes the first Black Miss Universe.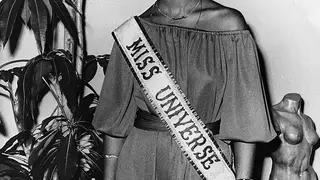 In one of the most competitive contests in the world, Janelle Penny Commissiong-Chow took home the top prize: the Miss Universe title on July 16, 1977.
At just 24 years old, Commissiong-Chow made Blacks and her country proud. Trinidad recognized Commissiong-Chow during their national 50th independence celebrations with photos of the beauty queen in the first moments after being crowned Miss Universe.
Commissiong-Chow was appointed to deputy chairman to the Tourism Development company board several decades later, proving that she has far more to offer the world than her radiant beauty. 
BET Global News - Your source for Black news from around the world, including international politics, health and human rights, the latest celebrity news and more. Click here to subscribe to our newsletter.  
(Photo: Alan Band/Keystone/Getty Images)