Saucy Santana Performs Latest Single, 'Booty,' On Jimmy Fallon's Tonight Show
The energetic performance marked his first late-night TV appearance.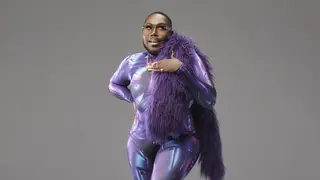 Saucy Santana made his late-night TV appearance, performing the Latto-assisted single, "Booty."
The energetic performance took place on Thursday (August 4) on the Late Night Show with Jimmy Fallon. Santana, 28, was backed by a DJ and dancers, adding to the flair that he already possesses alone.
With embroidered shorts that read "booty," the stage was encompassed with confidence.
"Booty" samples the Chi-Lites' 1970 song, "Are You My Woman," but takes significant inspiration from Beyoncé's song and visuals for "Crazy In Love."
Santana has had quite the week, having collaborated with the legend herself, Madonna, for the remix of "Material Girl (Gworl)."
The song came to fruition after being teased during a live performance at New York Pride 2022. They mashed up Madonna's 1984 "Material Girl" with Santana's 2020 version.
It was like my dream to be able to go to the studio with the Material Girl. Being able to be around her, seeing how hard she still works," Santana said of Madonna in an interview with the Recording Academy. "It was a surprise because I was hand-chosen by Madonna. It wasn't a favor. She specifically asked for Saucy Santana. Madonna is an icon. If you think real fast, 'who is bigger than Madonna?' you can't even name anybody. You will literally have to ponder. Just for me to be in that space was amazing."