Saucy Santana Shares The Best Advice He Received From Cardi B
In an exclusive interview with BET.com, the 'Material Girl' rapper reveals what was said that will stay with him always.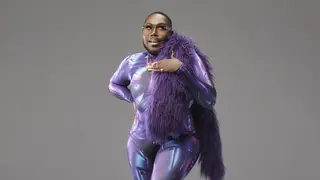 If you enjoyed part one of our interview with Saucy Santana, you're in for a whole lot more.
Pop your 'booty' down and take a seat as we continue the conversation with the 'Walk' musician who reveals to BET.com the advice Cardi B gave him about survival in these rap music streets, what it was like working with the City Girls early on in his career, being labeled as a gay rapper and how he wants to be remembered.
BET.com: As you gear up for the album, let us know what's the vibe? Have you snagged any collaborations?
Saucy Santana: For the new project, we're in the cook up process at the moment — right now I'm cutting my record and then the team and I will collectively go over who will sound good on which record. At the rate I'm going, I shock myself with the collaborations I've been getting — everyone is really onboard with Santana. It's no telling who else I can grab because the girls have really been coming through.
BET.com: Now we know you have a record with Lil Nas X … tell us why this has yet to be released and when can we expect the song to drop?
Saucy Santana: Ya'll gotta ask him. I'm not sure of his complete rollout or what he has up his sleeve. I definitely would say to expect it this summer because it's a summer record and he calls it our "strip club anthem" — I'm pretty sure it's coming soon.
BET.com: I'm sure because you're in a lot of rooms, you're chatting with a lot of important people. Is there anyone in the game who has given you the best advice so far?
Saucy Santana: Cardi B. When she invited me to her Met Gala party, we just talked. It wasn't even a fan out thing or two rappers — we spoke as people. Me and Cardi are both Libras so it was just genuine advice on things to help me further my career. She didn't have to do that because we were in the middle of the party — she gave me pointers on how to elevate and I appreciate it.
BET.com: The City Girls are clearly one of your biggest supporters as you develop and grow in your career. Is it surreal to see you and your friends running the rap game at this time?
Saucy Santana: Yes, we are always on each other's necks, always congratulating each other — they just killed Coachella. She's actually texting me right now telling me how proud she is of me about the Teen Vogue cover — it's always surreal for us to see our accomplishments and how fast we got here. Like City Girls came out in 2017 — all unexpected as we didn't realize we were all about to be rappers.
BET.com: You wore your hoochie daddy shorts in a recent video sporting your Balenciaga set. Is Santana participating in the Hoochie daddy short season?
Saucy Santana: It's a Saucy Santana summer and correction, Santana don't wear hoochie daddy shorts — I wear coochie cutters [laughs]. I'm always in coochie cutters — hoochie daddy season is not for me. It's gonna be a real saucy summer so just a lot of festivals and I just got secured for the "A Day In Vegas" festival. I have a lot of collaborations coming out this summer — the singles dropping, the music videos that will be coming out. Every day you wake up this summer, you're gonna gag.
BET.com: As we celebrate Pride month, what does pride mean to you, and what does Saucy take pride in?
Saucy Santana: Pride to me means being happy as well as confident in yourself. That's something I take a lot of pride in — being me authentically and genuinely. It's easy to wake up every morning and be yourself.
BET.com: It's also Black Music Month and we have so many Black artists with powerful stories who want to leave legacies behind. How would you like the world to remember Saucy?
Saucy Santana: I want to be remembered as someone who broke the glass ceiling and created opportunities for others like myself — other queer Black, boys whether they are feminine or not. Gay comes in all different shapes and sizes — I don't want people to think that gay is just how I present myself. I know so many different gay boys but I want us to get to a point where I can put music out — it's not a thing where we have to wait years to see another Saucy Santana. I want the door to be open and everyone can have as much opportunity and success as I've been able to have even in the future.
Ty Cole is a New York-based entertainment reporter and writer for BET.com who covers pop culture, music, and lifestyle. Follow his latest musings on Twitter @IamTyCole.