Nelly Finally Answers The 'Dilemma' Question We've Been Dying To Know
Well it's about time.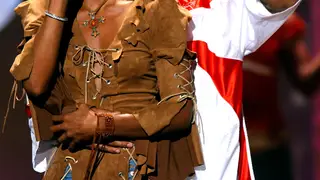 Nelly's 2002 bae-beginner's hit, "Dilemma," featuring Kelly Rowland told the tale of two infatuated lovers trying to turn their crushes into commitments, all while dealing with the plights of their current relationships.
The video that accompanied the single featured Nelly and Rowland coupled up in several scenes both with each other and the complicated likes of their significant others. 
But leave it to the millennials of the Digital Age to point out that a major reason why the relationship was so complicated may have been because Rowland was sending a text on a Microsoft Excel spreadsheet in the video.  
The discovery not only made meme history, but now, we get to hear just what the creative direction was behind such a puzzling music video moment. Chopping it up in an interview with Australia-based The Project, Nelly said it was just a matter of the day and age. 
"That was the thing at the time! That was the new technology at the time," Nelly said of the excel text message. "It looks a little dated now."
Though it still doesn't quite answer how anyone could assume she'd be able to send the text through a Microsoft Office feature, at least now we know we'll never have to worry about another technical difficulty from him again.
Tap into the nostalgia and Nelly's response to the Excel spreadsheet with the "Dilemma" video below.