Lawmakers Call for Hearings on Deaths of Unarmed Blacks
Reps. Elijah Cummings, John Conyers and Bennie Thompson believe the hearings will help restore the criminal justice system's integrity.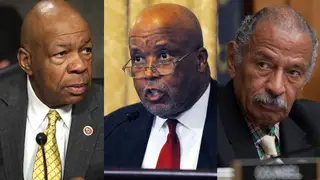 Many in America are still scratching their heads over the decision by a Staten Island grand jury to not indict Daniel Pantaleo, the police officer seen on video using a banned chokehold tactic that killed Eric Garner.
On Tuesday, Reps. Elijah Cummings, John Conyers and Bennie Thompson, the respective ranking Democrats on the House Oversight and Government Reform, Judiciary and Homeland Security panels, sent a letter to their committee chairmen seeking "a series of in-depth hearings to examine the federal response to the multiple, complex issues raised by the tragic deaths" of Garner, Michael Brown and other unarmed African-Americans "at the hands of police, as well as the incidents that followed these killings."
Proposed topics include the use of force; police hiring, training and outreach; accountability and transparency; militarization of state and local law enforcement departments; the grand jury process; and fostering trust between law enforcement and the communities they serve.
"We firmly believe that events in Staten Island, New York, Ferguson, Missouri, and elsewhere have fractured the trust of Americans in the integrity of the criminal justice system," they wrote. "The federal government has a critical role to play in ensuring that all Americans are treated equally before the law, especially by their local police, and it is our responsibility to exercise oversight of the funding and resources that the Federal government allocates to these local jurisdictions. Hearings into these topics will be important early steps on the long road of healing across the country."
House Speaker John Boehner also agrees there's a need for more information about what happened in the Garner case and whether justice was properly served.
"There are a lot of unanswered questions that Americans have and, frankly, I have," House Speaker John Boehner told reporters last week, a sentiment echoed by other GOP lawmakers.
BET Politics - Your source for the latest news, photos and videos illuminating key issues and personalities in African-American political life, plus commentary from some of our liveliest voices. Click here to subscribe to our newsletter.
(Photos from left: Chip Somodevilla/Getty Images, Tracy A Woodward/The Washington Post, Douglas Graham/Roll Call via Getty Images)