Former NCAA Football Players Meet at White House To Discuss College Athlete Rights
The roundtable featured several former college football players discussing player safety and workers' rights for student-athletes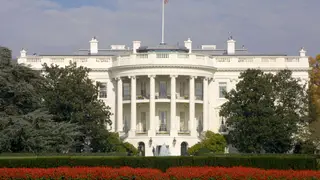 President Joe Biden convened a roundtable discussion on Wednesday (Nov 8) with several former college football players to discuss concerns about player safety and the working rights of student-athletes.
According to a statement from the White House, Biden attended the roundtable discussion to "hear about why college football players - and all student-athletes - deserve consistent safety standards, a voice, and to benefit from the revenue they produce."
Although Biden didn't share any specific legislative ideas concerning NIL or how to protect players, he did say he supports student-athletes and hopes that college programs will create policies to ensure that they are treated fairly during the one-hour session.
Several former college players including Andrew Luck, Desmond Howard, Ryan Clark, Rod Gilmore, and Jordan Meachum were in attendance. Currently, Howard, Clark, and Gilmore are college football commentators for ESPN.
Meachum is affiliated with the College Football Players Association, an athlete advocacy group, and former running back at Sacred Heart and South Dakota State.
Keith Marshall, a former Georgia running back and co-founder of NIL media platform The Players' Lounge was a part of the session along with National Economic Council Director Lael Brainard and senior advisor and Director of the Office of Public Engagement Steve Benjamin.
No current college athletes were in attendance at the roundtable.
Gilmore, who played college football at Stanford University and is also a practicing attorney, said that he feels compelled to represent student-athletes because they have no advocates in the ongoing battle for fair treatment to share in the revenue that they produce for the NCAA.
"I've seen the changes that have occurred over the years, and the players really can't speak for themselves, given their situation," Gilmore told BET.com. "I think it's incumbent upon us former players and others to take up that torch.
"Maybe part of it is the lawyer in me that sees unfairness as this revenue stream has grown and grown," he continued, "and players seem to be ignored and they don't have a seat at the table. They haven't gotten their fair share. They've just not been treated as fairly as they should. So it's time for that narrative to be clear and be out there and for them to have a voice."
Gimore also shared that player safety is another critical component to bringing equity to college football. He stated the NCAA and the conferences must make the necessary investment in student-athletes to ensure they can live productive lives after their playing days are over.
"I think we have to take better care of our players during off-season training. We 30 players and the last 20 years to die because of a weird, bizarre off-season training regimen," he said. "By comparison, the NFL hasn't lost a player in the last 20 years because of off-season training."
But he also noted that medical coverage is only provided for two years after an athlete's eligibility, which he says does not make sense.
"Injuries show up and last way, way longer than that. We have to do better with players on that front. Those are the things that stand out along with mental health. We don't do enough on that front," Gilmore said. "We keep adding more and more on the plates of these athletes to help generate $20 billion a year in revenue for the NCAA. We make them travel more, workout more, demand that they graduate, and we stress them out."
Since its approval in 2021, NIL has been a point of contention now that college athletes are allowed to monetize their names, images, and likenesses. With the NIL policy in place, conferences and schools have the choice to adopt their policies in accordance with state laws. Seen as a win for college athletes, critics of NIL deals argued that allowing athletes the same rights as every other student would be the demise of collegiate sports as athletes would focus on their revenue streams then their studies and performing on the field.
In October, Notre Dame athletic director Jack Swarbrick pushed for the NCAA to collectively bargain with student-athletes after giving his testimony on Capitol Hill during the 10th Congressional hearing on NIL. He argued for  giving athletes a special status "that would maintain their positions as full-time students at a university, but still allow them to unionize and collectively bargain with a larger entity."
"It's a fairly radical notion, but if we could find a way to reach binding agreements with our student-athletes, most of this goes away," Swarbrick said.
Clark, a current NFL analyst on ESPN, spoke about the need for equitable policies for college athletes and believes that the the White House roundtable was a step in the right direction.
"I think this conversation was to see what policies can be enacted. It was to see how to have the conversation with the NCAA," Clark said. "It was how to have the conversation with those who want to represent the student-athletes and what policies could be enforced. And to be honest it wasn't about a policy that could only help student-athletes. We want it to be beneficial to the NCAA. Want it to be fair. We want it to be equitable in a way that it can be equitable."