Pharrell Williams Talks Leading a New Era at Louis Vuitton and Virgil Abloh's Influence on September Cover of GQ
The newly appointed creative director opens up about Virgil Abloh's lasting legacy at the fashion house.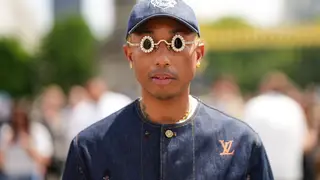 When multi-talented superstar Pharrell Williams was named the new Creative Director of Louis Vuitton, it came as a surprise to some fashion insiders. And in his new cover story for the September issue of GQ, the Grammy Award-winning producer, entrepreneur, and designer admitted that the Louis Vuitton job offer seemed to come out of the blue.

"It wasn't an interview or anything," Williams recalled. "It was like, 'Will you accept this position? Will you accept this appointment?' I'm looking at the water and I'm just like, 'What?'"
The role was previously held by Virgil Abloh, who sadly passed away in November 2021 after a lengthy battle with a rare cancer. The fashion trailblazer and founder of Off-White became the first Black artistic director of the European luxury house in 2018.
Williams, who was close friends with Abloh, maintains that the Chicago designer's spirit remains with him and with the collection.
"I always knew Virgil was special," Pharrell said, adding that he's maintained the connection to Abloh through Louis Vuitton.

Some Abloh-designed pieces even remain in the line. "It's like we're collaborating in spirit," Pharrell said. He added that he will "always pay homage" to his close friend.

Williams has plans to continue to develop the house's relationship to skateboarding, something that was initiated by Abloh.
Louis Vuitton CEO, Pietro Beccari, also spoke to the late designer's legacy.

"After the untimely departure of Virgil Abloh, I don't think I could have chosen a  traditionally trained designer," Beccari said.  "I needed someone who was again connected to the arts, who could touch the hearts of people through music and fashion, but also collaborations."

For Beccari, Williams was the ideal choice for the creative director role.

"He has 13 Grammys and even Oscar nominations. One could say he has a midas touch. So, as a creative director, while it's an experiment, I think it will be a successful one."
One of Williams' most notable moves in his new role was to cast a heavily-pregnant Rihanna in ads for the brand. His decision to cast the global superstar sparked quite the buzz for the brand. 
Williams went on to share a little more insight into his hopes for the future of the luxury brand.

"The house has aspirations to grow exponentially, but that growth is not just numbers," he said. "Growth and taste, growth and setting the bar, growth and exceeding standards. The money follows that. We're not going to just do things just to make money, or else we'll just keep making the same belts and sh-t. That's not what I was brought here to do. I was brought here to shake the tree. That's how you get the sweetest apples."