Claudine Gay Becomes First Black President Of Harvard University
'I stand before you today humbled by the prospect of leading Harvard,' the daughter of Haitian immigrants said at her inauguration.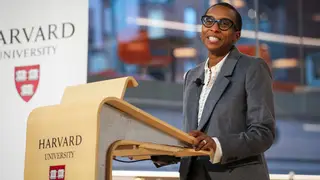 Harvard University inaugurated Claudine Gay on Friday (Sept. 29) as the 30th president of the Ivy League school, making her the first Black person and second woman to lead the prestigious university.
"I stand before you today humbled by the prospect of leading Harvard, emboldened by the trust you have placed in me, and energized by your own commitment to this singular institution and to the common cause of higher education," she said in her inauguration speech, The Harvard Crimson reports.
She thanked her family for their support, including her mother, Claudette Gay, who died earlier this year.
"I wish very much that she were here, if only for the chance to hear her say, 'I told you so,'" Gay said.
Her father, Sony Gay Sr., husband, Chris Afendulis, and her son, Costa Gay-Afendulis, were in the audience.
Gay's presidency officially began in July. The former Harvard Faculty of Arts and Sciences dean replaces previous president Lawrence S. Bacow, who announced in June that he would step down after the 2022-23 academic year.
The daughter of Haitian immigrants, Gay graduated from Stanford University in 1992 with a bachelor's in economics and earned her Ph.D. in government from Harvard in 1998.
She served as an associate professor and then a tenured associate professor at Stanford before returning to Harvard in 2006 to become a professor of government. She was made a professor of African and African American studies in 2007. In 2015, she was named the Wilbur A. Cowett Professor of Government before becoming the Edgerley Family Dean of the school's Faculty of Arts and Sciences in 2018.