The Birth of the Blues: From the Mississippi Delta to Chicago
We discuss the genre's history with Grammy Award-winning blues artist Kingfish for Black Music Month.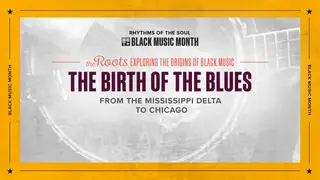 Blues, a music genre profoundly entwined with the African-American experience in the United States, boasts a compelling history that stretches back almost a hundred years. To delve deeper into the birth and development of the blues, we turned to Grammy Award-winning artist Christone "Kingfish" Ingram for insight. Conversing with this 24-year-old Mississippi prodigy was a natural choice, given his rapid rise as one of the most prominent figures in the modern blues scene.
Before releasing critically revered albums from his self-titled debut to 2021's 662, his love of the genre comes from having a musically inclined family and living next door to a blues band. According to Kingfish, the blues starts with slavery.
"While slaves were working in the fields, they would have work songs and field hollers that they would do to accompany them while they worked," said Kingfish. "They would use this to communicate to others and to vent out their problems. That's pretty much the foundation of blues."
Considered the "Father of the blues," W.C. Handy's compositions "St. Louis blues" alongside "Memphis blues" became one of the first recordings within the genre around 1914. This gave way to dozens of notable artists within the next decades, such as Lead Belly, Mississippi John Hurt, Muddy Waters, Son House and Robert Johnson. Even Black women were innovators in the genre, from Ma Rainey and Sister Rosetta Tharpe to Big Mama Thornton.
"The main features of blues include: specific chord progressions, a walking bass, call and response, dissonant harmonies, syncopation, melisma and flattened 'blue' notes," said writer Lucy Chaudhuri in the 2022 feature. "Blues is known for being microtonal, using pitches between the semitones defined by a piano keyboard. This is often achieved on electric guitar using a metal slide for a whining effect. As a result, blues can be heavily chromatic."
The musical elements of blues began primarily as a vocal-driven music form, said Kingfish. Instruments like guitars and harmonica emerged later on. Early musicians within the genre relied on their vocals and used acoustic guitars and harmonicas, becoming common later on. Over time, electric guitars, harmonicas and even pianos became integral to the musical genre.
As time progressed, other specific styles or modifications of blues began to emerge nationwide, including Piedmont Style, Chicago blues, and Mississippi Delta, among others. The 1950s and beyond would give the world blues legends such as Rock and Roll Hall of Fame inductee BB King, Bobby Bland, Earl Forest and even women like Koko Taylor.
In a contemporary age where artists like Lil Kim, Cardi B, Sukihana, Sexyy Red catch flack for overly sexual and vulgar lyrics, Lucille Bogan was already making lyrics like "I got nipples on my titties, big as the end of my thumb / I got something between my legs'll make a dead man cum" as a Dirty blues artist in the 1920s.
Most of the scenes were interconnected in many cases. For example, Muddy Waters took his style of blues born in Mississippi and added modern technology of the time, according to Kingfish.
"When Muddy Waters went to Chicago, he took the Mississippi Delta sound and electrified it," explained Kingfish. " Mississippi style blues back then were played with acoustic guitars and no microphones. Amplifiers and all that came when Muddy came to Chicago."
The significance of the blues in Black music is profound. Outside of the various blues subgenres, the genre would eventually evolve into rock, soul and r&b.
Blues artists like Kingfish keep the genre alive alongside other notables such as Shemekia Copeland, Eric Gales, Sugaray Rayford, and Kenny Neal. Blues represents genuine emotion and experiences while reflecting the struggles and triumphs Blacks have faced within America over centuries. Though the genre isn't necessarily a chart-topping or radio-heavy style of music, Kingfish considers Blue an extremely important part of Black history.
"It's our culture," said Kingfish. "All the music we hear today is born from blues and gospel. It wouldn't be around if it wasn't for us. Not only that but blues is life. You may not like the blues, you may not listen to it but somewhere somehow, you're going to have it. You can't escape it."