Hip Hop Awards 2022: 3 Things to Know About the Rising TikTok Star Armani White
The rising entertainer performed his hit single "Billie Eilish" alongside legendary rapper N.O.R.E.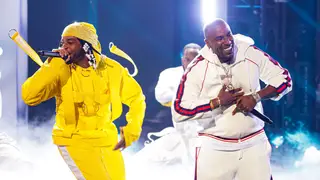 Philadelphia-based rapper and songwriter Armani White lit up the stage at the 2022 BET Hip Hop Awards, hosted by veteran rapper Fat Joe, with a sizzling performance of his viral hit "Billie Eilish." He was later joined onstage by legendary emcee N.O.R.E. whose "Nothin'" record is sampled in Armani's song. The breakthrough single earned the rapper his first entry on the Billboard Hot 100 chart, peaking at no 62. As we look back at yet another amazing celebration of hip-hop music and hip-hop culture, get to know this year's performer a little bit better.
His 5-year-old niece helped him create his comeback record "Onederful"

Armani was suffering from a brutal case writer when his 5-year-old niece—who came over to have a toy fixed—would unintentionally help him create his comeback record "Onederful" after singing the words, "This my type of day, my type of day, my type of day-ay-ay!" It would later become the song's hook. The track was released in 2018 and featured on Keep in Touch project.

He jump started his career with the help of TikTok

By August, Armani had already garnered 80 million views on the video for his smash TikTok about singer Billie Eilish's signature "big T-shirt" style. "I mean, honestly, I think Billie Eilish's style is what the song's about, but it's also the character that Billie Eilish's music portrays," he told The Post over the summer. "I feel like it's kind of identical to what I like to portray in my own music."

He got to perform with N.O.R.E.

Not only is "Billie Eilish" one of the most popular songs out, but it samples one of the most classic rap records in hip hop. If Armani sounded familiar to older music listeners, it's because it uses N.O.R.E.'s  hit "Nothin." Armani performed his latest track at the 2022 BET Hip Hop Awards before being joined on stage by the legendary emcee.