Real Black Love!: Saweetie Catches Quavo Smoothing Down His Edges With A Toothbrush
Plus, see how other rappers are acing the grooming game.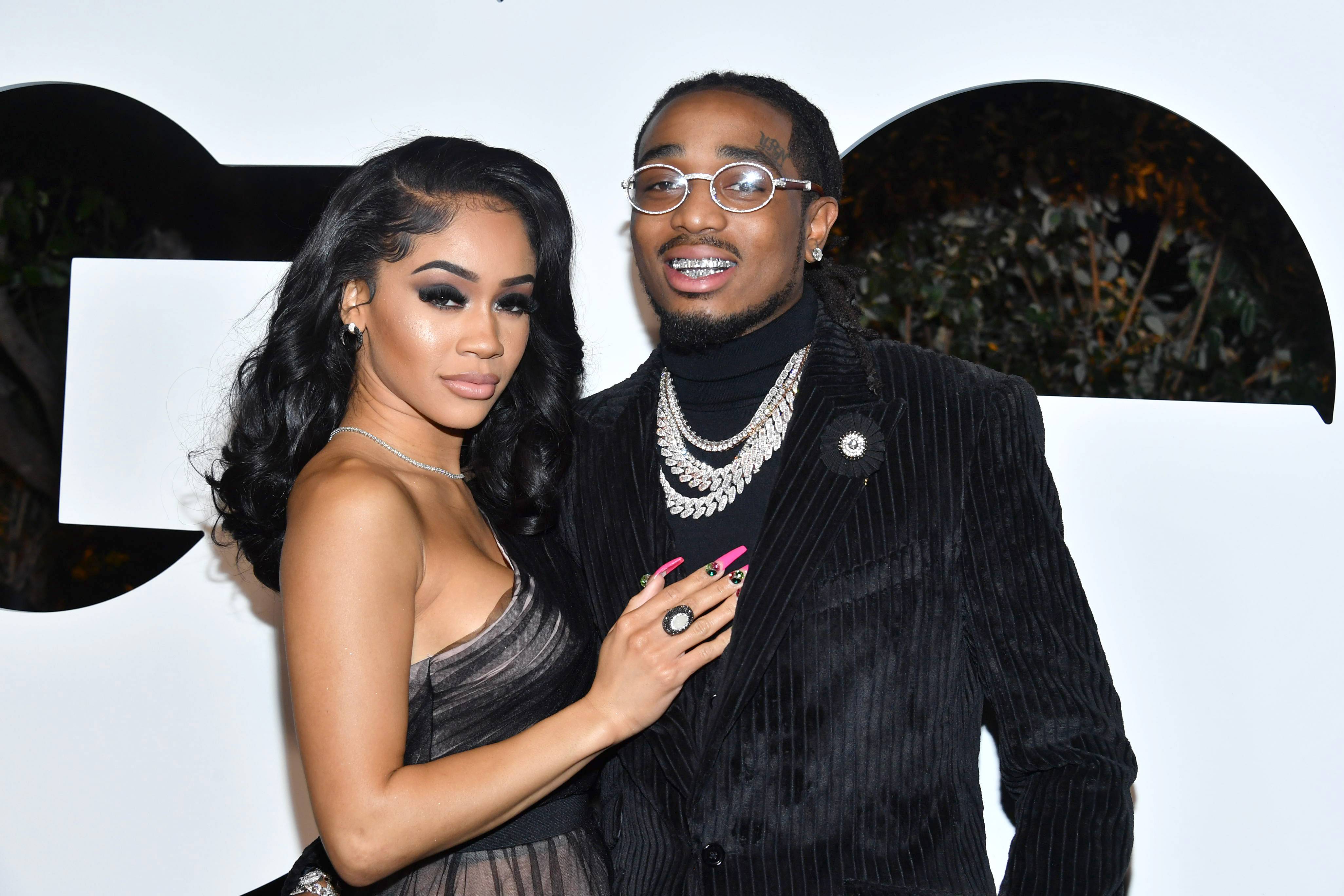 Move over, sis, the guys joining the beauty conversation, especially when it comes to breaking down the stigma of discussing good grooming habits. 
Below, we compiled a list featuring everyone from P. Diddy to Jaden Smith to see what these handsome men use on the daily.
Quavo

P. Diddy

It's no surprise that this inspirational rap mogul is dropping his skin-care tips, paired with some inspirational speeches, all over the 'gram. Sean Combs, a.k.a. P. Diddy, a.k.a. Puff Daddy, is all about that self-care life. From eye masks to massages, Diddy has cracked the code to keeping his youthful appearance on lock. 

In 2015, Diddy gave us a look into his Pre-Oscars routine and proved that there's nothing better than getting a professional facial. If you can't hit up the spa before the turn up, check out the "special lasers" that his aesthetician used to have his skin looking right! 

The NuFACE Trinity Facial Toning Kit uses microcurrent therapy to stimulate and tighten your skin. Using this can reduce wrinkles, improve facial contours and brighten your skin, leaving it looking smoother and softer. No wonder Diddy looks so damn good!

Pharrell

Pharrell is best known for his musical chops and effortless style. But let's not forget that this man never ages. We've all been waiting to know the secret to his wrinkle-free skin—and he has four simple steps: exfoliate, cleanse, moisturize and see a dermatologist!

You can use these products listed, but as Pharrell said, it's always best to visit a dermatologist and find out exactly what products work best for your skin. We can't all be poreless like Pharrell and Naomi!

A$AP Rocky

A$AP Rocky's skin is literally baby smooth. Even though he has some opinions about some women's makeup routines, he gave the Coveteur the down low on his skin-care secret: witch hazel!

"Honestly, I haven't been told my skin is flawless. What I use is something called witch hazel to cleanse and exfoliate every day. You've got to exfoliate, you know?" he shared. 

For those who don't know, witch hazel is a natural astringent considered one of the best remedies for fighting acne and removing excess oil off your skin.

Drake

Drake responded saying "I brush with activated charcoal before any club night where I will see baddies know datttttttttt." We feel you, Drake!

Activated charcoal is a black powder that can be made from the likes of coconut shells when exposed to high temperatures. Plus, it can be used as a natural teeth-whitener as well as a detox ingredient and skin-care product to fight acne. 

According to Dr. Gary Glassman, the chief dental officer of DentalCorp, the actual perks of using activated charcoal aren't definite. Dr. Glassman says that those thinking of making the switch should use it sparingly because activated charcoal lacks flouride, which is the ingredient in toothpaste that fights bacteria. 

Future

Future's dreads always look luxurious (and moisturized) whether they are tucked under a hat or free-flowing as he turns up during a performance.

When rocking dreads, the most important thing to remember is moisturize, moisturize and, of course, moisturize. Future's stylist (and friend) has definitely got that on loc! Get it? LOL.

The Weeknd

This Starboy has star quality skin that never seems to age. (Seriously, how old are you, Abel?)

This is all courtesy to his groomer, Christine Nelli. Whenever The Weeknd needs to look his best on stage, Nelli told Billboard.com she uses ReVive skin-care products to prep his skin to be spotlight ready.

Created by plastic surgeon Dr. Gregory Bays Brown, Revive was developed in order to combat lackluster complexions and leave skin looking ageless. He uses his patented and Nobel-prize winning Renewal Epidermal Science (RES) Technology to help regenerate skin cells. 

Jaden Smith

If you spot Jaden Smith at any event, you will most likely see him with his favorite accessory: water. He seems to be one of the most hydrated celebs out there with not one blemish gracing his glowing, radiant skin. He even tweeted about his love for distilled water. 

Jaden and Will Smith took this love for water one step further by starting their own water company. So, Jaden's traded his usual jug of distilled water for these cute, colorful JUST waters. According to their website, JUST water is 100 percent ethically sourced and packaged water from Glens Falls, New York.

Does drinking more water really make your skin glow?

Board certified dermatologist Rachel Nazarian, M.D. told Women's Health, "I've found that water makes a big difference in skin health. Without adequate water intake, skin appears duller, and wrinkles and pores more prominent."

We might just have to cop some of the Smith's water. It doesn't hurt that it's good for your skin AND the environment. 

Frank Ocean

Frank Ocean is known for his smooth vocals but he also has crazy, smooth looking skin. You can thank Mama Ocean for that.

Katonya Breaux was adamant on making sure her sons had sunscreen on when they were growing up. Frank's mother even created her own skin-care line of SPF products called Unsun after the frustration of not being able to find sunscreen for brown skin. Katonya says that her son definitely incorporates sunscreen into his daily routine.

Sunscreen should be used every day whether its a beach day, Netflix and chill day and even a snow day! It helps keep your complexion looking smooth and ageless while protecting it from damaging UV rays.

There's also a huge misconception that people with darker skin don't need to use sunscreen. Katonya Breaux aims to show that's just not true with her line of natural, mineral based SPF products that blend perfectly into all skin tones and are free of those nasty chemicals that can irritate your skin.

DJ Khaled

DJ Khaled has been known to drop his major keys to success all over social media. What's his major key for softer looking skin? Cocoa butter! He says he doesn't even wear cologne because cocoa butter leaves him smelling that good.

Cocoa butter works great on sensitive skin because it moisturizes and hydrates, while also repairing and healing damaged skin. Cocoa butter is also known to fade stretch marks. Major key!