LeBron James Responds With Powerful Statement On The Death Of Ahmaud Arbery
"We're literally hunted every day."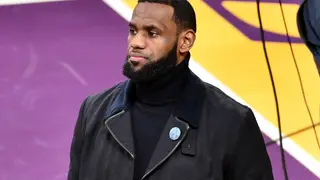 In the aftermath of the shooting death of 25-year-old Ahmaud Arbery, who was gunned down while jogging near his hometown of Brunswick, Georgia on February (23), celebrities and activists alike are raising awareness, fighting for justice and also expressing their frustration over the horrific incident. 
On Wednesday (May 6) LeBron James shared a powerful tribute regarding Arbery's tragic death on his Twitter account. 
"We're literally hunted EVERYDAY/EVERYTIME we step foot outside the comfort of our homes!" the NBA superstar wrote. "Can't even go for a d**n jog man! Like WTF man are you kidding me ?!?!?!?!?!?"
"I'm sorry Ahmaud (Rest In Paradise) and my prayers and blessings sent to the..... heavens above to your family!!" King James added "#Stay Woke" and "#ProfiledCauseWeAreSimplyBlack."
According to a report released by the Glynn County Police Department, 64-year-old Gregory McMichael and his 34-year-old son Travis, told police that they believed that Arbery was responsible for a string of neighborhood break-ins. 
McMichael claims that when he saw Arbery jogging, he and his son grabbed their guns and chased him down to make a citizen's arrest. 
While the case is currently under investigation, Gregory and Travis McMichael have not yet been charged with the killing of Ahmaud Arbery.