TLC's Chili Talks Dating Outside Of Her Race: "God Made All Of Us"
The 47-year-old singer is open-minded when it comes to love.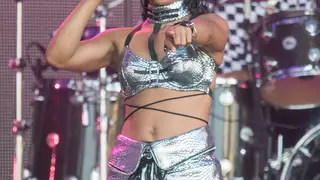 Singer and one-third of the hit girl group TLC, Chili got candid for the VH1 cameras on What Chilli Wants and told us precisely what she wants from a man. The show documented her love life and the search for Mr. Right, during the show she revealed that she desired a man that didn't smoke, drink or eat pork and so much more.
During an interview Chili told Essence that she still has the same high standards that she had nearly 10 years ago during her show.
"Yes, I do! It's still long and maybe a little longer now," she said, with a laugh. "I know what I bring to the table."
The 47-year-old considers herself mixed (middle eastern and african american) and said she's not limiting herself to only dating Black men to find her perfect person.
"I want for women — especially for women of color — to not be so closed minded when it comes to love," Chilli said. "God made all of us and you may not find your husband because you're trying to stick to one group. You've got to be open."
"You want the person who's the best person for you, no matter what color he is," she added
The Atlanta native believes in practicing what she preaches and disclosed that she's currently dating a man who isn't of the black race.
"[…] We're testing the waters. He is not black," Chilli said
Clearly Chili knows what she wants and she won't stop until she finds the right man for her.