Hip-Hop Songs to Get You Through the News That Trump Was Elected
Here are some rap songs for the perfect #woke soundtrack.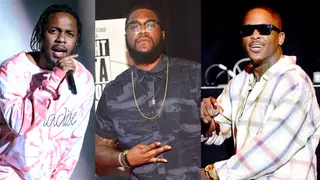 Below, we've compiled some of our best attempts at assisting you with dealing with this disaster. All ranges of emotions, from hope, to anger, to fear, are represented. Maybe a Trump presidency will at least get folks serious about trying to change the fear narrative in this country. Music helps.
YG - 'FDT (F**k Donald Trump)'

This one's pretty self-explanatory. Even though The Donald won, you don't have to accept his hate.

Tupac - 'Keep Ya Head Up'

Many have been concocting a doomsday scenario of total oblivion now that Donald Trump will be our president. Let's not get ahead of ourselves, yet. 'Pac's always known how to keep spirits high and look at the bright side of tomorrow.

Kenneth Whalum featuring Big K.R.I.T. - 'Might Not Be OK'

If you're more into looking at Donald Trump's impending presidency as the beginning of the end, this one's for you. Even if he weren't elected, American social progress has been put into park as of late, so it really might not be OK.

Dead Prez Featuring Jay Z - 'Hell Yeah (Remix)'

This one's ahead of its time. Before police brutality was the subject of iPhone camera rolls, Hov hopped on a remix of Dead Prez's "Hell Yeah" and rapped "I ain't waiting for the system to plug these holes." Amen [praying hands emoji].

Lauryn Hill - 'I Find It Hard to Say (Rebel)'

Lauryn's been speaking the gospel for over two decades. This gem is straight knowledge bars for those who just want to raise up or reflect upon where we've been and where we're going.

Kendrick Lamar - 'Alright'

K Dot's 2015 Black power LP, To Pimp a Butterfly, captured last year's headlines perfectly. "Alright" hopefully captures tomorrow's just as well.

Grandmaster Flash & the Furious Five - 'The Message'

"It's like a jungle sometimes, it makes me wonder how I keep from goin' under."

Public Enemy - 'Fight the Power'

If things get real, this one could come in handy. Consider it the soundtrack of resistance to injustice.

The Coup Featuring Black Thought & Talib Kweli - 'My Favorite Mutiny'

Boots Riley and his group, along with Souls of Mischief and others, really had the Bay Area woke during the early to mid 1990s. This one though came from the group much more recently. An update perhaps. If revolution is more your flavor, after hearing yesterday's (November 8) election results, this should soothe your soul.