Vanessa Bryant Will Donate $16M Trial Payout To Mamba And Mambacita Sports Foundation
She sued for emotional distress and mental anguish concerning the leaked images of Kobe and Gianna Bryant after their fatal 2020 helicopter crash.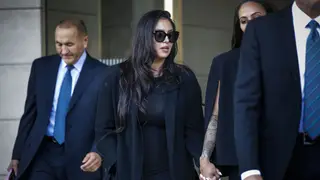 Vanessa Bryant has decided to donate a lump sum from the $16 million trial payout from her lawsuit against Los Angeles County to the Mamba and Mambacita Sports Foundation.
According to The Los Angeles Times, Bryant's lawyer Luis Li confirmed that she would give all the proceeds to the nonprofit organization that keeps her late husband, Kobe Bryant, and their daughter Gianna's legacies alive. The organization offers opportunities to underprivileged young athletes.
It's unclear the exact amount that she will donate.
"From the beginning, Vanessa Bryant has sought only accountability, but our legal system does not permit her to force better policies, more training or officer discipline," a statement from Li reads, People reports. "Those measures are the responsibility of the sheriff's and fire departments — responsibilities that Mrs. Bryant's efforts have exposed as woefully deficient, even giving amnesty to the wrongdoers."
Adding that Vanessa "never faltered, even when the county attempted to force her to submit to an involuntary psychiatric examination."
She also posted about the verdict on her  Instagram, sharing a selfie of her and Kobe smiling with Gianna, captioning her post, "All for you! I love you! JUSTICE for Kobe and Gigi! #Betonyourself #MambaDay 8*24*22 💜💛💜💛 #MambaMentality"
On Wednesday (Aug. 24), a jury awarded Bryant a multi-million dollar payout after she sued L.A. County over the leaked images of the bodies of Kobe Bryant, their daughter Gianna and other victims of the fatal Jan. 2020 helicopter crash.
She sued for emotional distress and mental anguish concerning the purported images.