Ciara And Monica Support Vanessa Bryant At Kobe Bryant Crash Site Photo Trial
The group was seen walking to the courtroom on Monday, Aug. 22.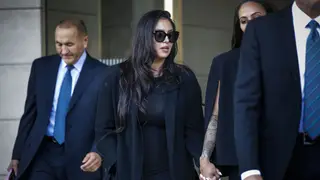 Vanessa Bryant walked into the Los Angeles County courtroom with a full support system behind her on Monday (Aug. 22).
According to People, Bryant was accompanied by Ciara and Monica, as well as her oldest daughter, Natalia. The group sat behind her during testimony from an internal officer with the LA County Sheriff's Department for the trial over the leaked images of Kobe Bryant, the couple's daughter Gianna and the seven other victims of the tragic January 2020 helicopter crash.
On Friday (Aug. 19), Vanessa took the stand to give a three-hour testimony about her experience following the sudden deaths of her husband and daughter.
She shared that she lives "in fear every day of being on social media and having these photos pop up," referring to the members of the LASD and other emergency personnel who allegedly shared the graphic images.
Vanessa is suing L.A. County for emotional distress and mental anguish concerning the purported images. Back in December 2021, L.A. County tried to dismiss Vanessa's lawsuit but a judge refused their request.
The helicopter crash also claimed the lives of Payton Chester, 13, Sarah Chester, 46. Alyssa Altobelli, 14, Keri Altobelli, 46, John Altobelli, 56, Christina Mauser, 38, and pilot Ara Zobayan, 50.