'BET News Presents: America In Black': VP Kamala Harris on Maternal Mortality, T.D. Jakes' 10-Year Plan, Afrobeats & More
The next episode of the monthly news magazine premieres on July 2.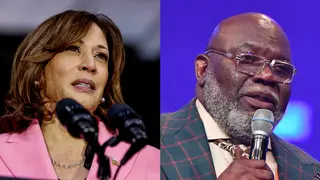 "Black women are three times more likely to die from causes related to pregnancy, compared to white women," is one of the striking statistics that sparked this month's conversation about Black maternal mortality on the newest episode of "BET News Presents: America in Black," airing July 2.
BET News sits down with Vice President Kamala Harris to tackle the big issue facing our community and what legislation can do to protect Black mothers. Anthony Harris–a man who tragically lost his wife from childbirth—gives insight by sharing his heartbreaking story, followed by other health experts and childbirth professionals that also weigh in on the matter.
BET News' special correspondent Ed Gordon reports on prolific religious leader Bishop T.D. Jakes, whose development firm captured headlines back in April with a 10-year, $1 billion partnership with Wells Fargo created to stimulate upward mobility in underserved communities. The Dallas-based Potter's House megachurch founder speaks on the controversy stirred around the deal and his outspokenness, explaining his intentions of leading with legacy by balancing ministry and entrepreneurship.
Later, artist Kehinde Wiley is connecting Black fine art to the mainstream with CBS Mornings Saturday co-host Michelle Miller. Miller and Thelma Golden, Director and Chief Curator for the Studio Museum of Harlem highlight the Black visionary who is making his name known by all, from celebrity collectors to total art connoisseurs.
MTV Correspondent Dometi Pongo talks to Def Jam CEO Tunji Balogun and artist Adekunle Gold about the history and upticking popularity of Afrobeats music, tagging along with Fireboy to the world's largest Afrobeats festival, "AfroNation", for a complete historical perspective on the roots-driven genre.
And from Afrobeats, to rap and hip hop, comedian and Comedy Central's The Daily Show guest host Roy Wood Jr., drops the mic on Black music, putting a comedic take on today's generation of tunes.
A new one-hour episode of "America in Black" airs July 2 and is available across BET and CBS' platforms, including BET+ (July 6) and the CBS News Streaming Network. The show will premiere on the BET YouTube page also on July 2.